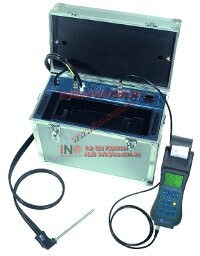 Lưu ý: Tham khảo ý kiến của nhân viên INO sẽ giúp bạn tiết kiệm được thời gian và chi phí khi cần mua sắm. ​​Với sự tư vấn của chúng tôi, bạn sẽ không gặp khó khăn khi tìm hiểu về đặc tính của sản phẩm cần mua.
Portable industrial combustion and emission analysers up to 6 sensors gas analyser:
– Up to 6 sensors temperature compensated
– Long term monitoring with automatic water condensate drain
– Electronic flow-meter
– Aux 4-20mA inputs
– Graphic display with menu
– Easy maintenance
– 1000 fully analysis memory, RS232, & Windows software
– Remote Control Unit with built-in printer
– Recharable batteries or AC power
– Automatic protection for CO sensor with purge pump
– Upgradable using Flash memory
Lưu ý: Nếu một thiết bị nào đó không được liệt kê ở đây, điều đó không có nghĩa rằng chúng tôi không hỗ trợ được bạn về thiết bị đó.
Hãy liên hệ với chúng tôi
 để biết danh sách đầy đủ về thiết bị mà chúng tôi có thể hỗ trợ và cung cấp.
INO: Bán, Báo giá, tư vấn mua sắm và cung cấp, tư vấn sản phẩm thay thế; tương đương, hướng dẫn sử dụng, giá…VNĐ, …USD info@ino.com.vn | 02873000184 | Flue Gas Analysers ( Greenline 6000 ).