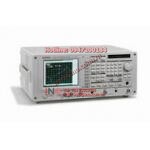 Lưu ý: Tham khảo ý kiến của nhân viên INO sẽ giúp bạn tiết kiệm được thời gian và chi phí khi cần mua sắm. ​​Với sự tư vấn của chúng tôi, bạn sẽ không gặp khó khăn khi tìm hiểu về đặc tính của sản phẩm cần mua.
The R3752 Series Network Analyzer is a 500mhz vector network analyzer that has been developed under the concept of "optimum tools for individual applications." They realized a high throughput such as high-speed measurement of 0.1ms/point at resolution bandwidth (RBW) of 10khz, dynamic-range measurement at 115db, and parallel measurement for two devices by 4-trace display.
Besides the conventional user sweep function, the program sweep functions are added which allows to define the RBW; output level, input attenuator (ATT) for each segment during sweeping.
Semiconductor switches are used for adjustment of ourput level and input ATT, enabling high-speed level sweeping best suitable for oscillator drive level tests.
Features:
High throughput
Wide dynamic range
Program sweep functions
MS-Dos formatted disk
Resource & Download
Lưu ý: Nếu một thiết bị nào đó không được liệt kê ở đây, điều đó không có nghĩa rằng chúng tôi không hỗ trợ được bạn về thiết bị đó.
Hãy liên hệ với chúng tôi
 để biết danh sách đầy đủ về thiết bị mà chúng tôi có thể hỗ trợ và cung cấp.
INO: Bán, Báo giá, tư vấn mua sắm và cung cấp, tư vấn sản phẩm thay thế; tương đương, hướng dẫn sử dụng, giá…VNĐ, …USD info@ino.com.vn | 02873000184 | Advantest Network Analyzer ( R3752B ).