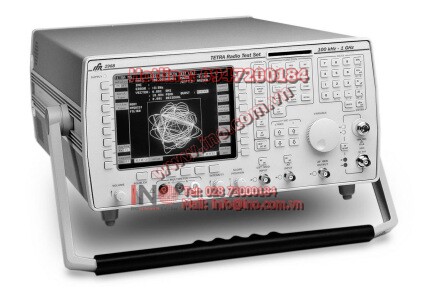 Lưu ý: Tham khảo ý kiến của nhân viên INO sẽ giúp bạn tiết kiệm được thời gian và chi phí khi cần mua sắm. ​​Với sự tư vấn của chúng tôi, bạn sẽ không gặp khó khăn khi tìm hiểu về đặc tính của sản phẩm cần mua.
Marconi 100 kHz to 1 GHz Radio Test Set
The 2966A Radio Test Set performs all of the measurements and supports protocol functions required in a GSM service or production environment. It also supports all of the international analog cellular standards (TACS, AMPS and NMT) and the main worldwide trunking format (MPT 1327).
Unlike 'GSM Only' testers, the 2966A includes a host of standard RF instruments, such as a spectrum analyzer and CW frequency counter, as well as audio sources, an audio analyzer and a digital multimeter. These are invaluable for radio alignment and detailed fault finding. Performance is uncompromised and test speeds are significantly greater than previous generation equipment.
Lưu ý: Nếu một thiết bị nào đó không được liệt kê ở đây, điều đó không có nghĩa rằng chúng tôi không hỗ trợ được bạn về thiết bị đó.
Hãy liên hệ với chúng tôi
 để biết danh sách đầy đủ về thiết bị mà chúng tôi có thể hỗ trợ và cung cấp.
INO: Bán, Báo giá, tư vấn mua sắm và cung cấp, tư vấn sản phẩm thay thế; tương đương, hướng dẫn sử dụng, giá…VNĐ, …USD info@ino.com.vn | 02873000184 | Aeroflex IFR 2966A.