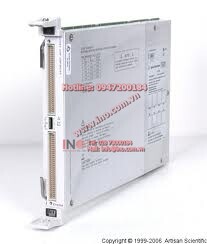 Lưu ý: Tham khảo ý kiến của nhân viên INO sẽ giúp bạn tiết kiệm được thời gian và chi phí khi cần mua sắm. ​​Với sự tư vấn của chúng tôi, bạn sẽ không gặp khó khăn khi tìm hiểu về đặc tính của sản phẩm cần mua.
Description
The HP E1415A is a C-size, 1-slot, VXI closed loop
control module. It bridges the gap between standard
PID controllers and custom control systems. And, it is
complete on a single module! More powerful than PID
controllers and easier to implement than custom
systems, the HP E1415A is the perfect solution to tough
monitoring and control applications. These applications
consist of:
l Linear control of multiple loops of temperature,
position, velocity, acceleration, rpm, and other
parameters;
l Complex control requiring nested or interconnected
loops, or loops with multiple inputs or multiple
outputs of mixed type;
l Independent loops with multi-level alarms and
watchdog requirements.
The HP E1415A can also be used in various other modes
for applications requiring general-purpose
multifunction input and output capability. The
algorithms are flexible enough and the timing is
deterministic enough to be used for hardware-in-theloop
simulation of many types of new product designs.
And it can be used solely for data acquisition with the
ability to capture multiple channels of analog, digital, or
frequency-based signals all with a single VXI module.
Refer to the HP Website for instrument driver
availability and downloading instructions, as well as for
recent product updates, if applicable.

Resource & Download
Lưu ý: Nếu một thiết bị nào đó không được liệt kê ở đây, điều đó không có nghĩa rằng chúng tôi không hỗ trợ được bạn về thiết bị đó.
Hãy liên hệ với chúng tôi
 để biết danh sách đầy đủ về thiết bị mà chúng tôi có thể hỗ trợ và cung cấp.
INO: Bán, Báo giá, tư vấn mua sắm và cung cấp, tư vấn sản phẩm thay thế; tương đương, hướng dẫn sử dụng, giá…VNĐ, …USD info@ino.com.vn | 0869421303 | 02873000184 | Agilent Technologies, Algorithmic Closed Loop Controller (E1415A).