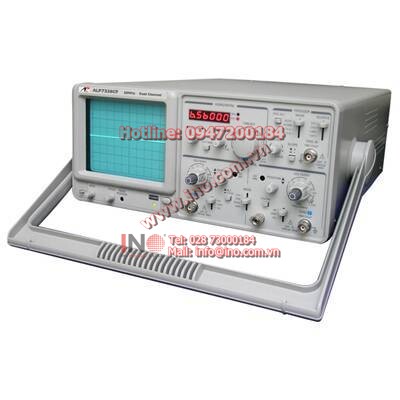 Lưu ý: Tham khảo ý kiến của nhân viên INO sẽ giúp bạn tiết kiệm được thời gian và chi phí khi cần mua sắm. ​​Với sự tư vấn của chúng tôi, bạn sẽ không gặp khó khăn khi tìm hiểu về đặc tính của sản phẩm cần mua.
20MHz/40MHz Dual Channel
Built-In 6-Digit Frequency Counter
High Sensitivity 1Mv/DIV
5mV/div Sensitivity on Both Channels
CH1 & CH2 Independent Channels
CH1 Signal Output
Two waveforms in different frequency can be observed via alternative trigger function
High-speed sweep
Algebraic Addition and Subtraction
X-Y Operation
0.2μs/div to 0.5s/div Time Base(Uncal upto 20ns)
Z Modulation TTL Level
8 x 10 cm Display Internal Graticule
TV signal synchronous function, TV Triggering Frame (V) & Line (H)
Line Trigger
ALT Triggering
Triggering Level Lock Function, Automatic Synchronize Function

Resource & Download
Lưu ý: Nếu một thiết bị nào đó không được liệt kê ở đây, điều đó không có nghĩa rằng chúng tôi không hỗ trợ được bạn về thiết bị đó.
Hãy liên hệ với chúng tôi
 để biết danh sách đầy đủ về thiết bị mà chúng tôi có thể hỗ trợ và cung cấp.
INO: Bán, Báo giá, tư vấn mua sắm và cung cấp, tư vấn sản phẩm thay thế; tương đương, hướng dẫn sử dụng, giá…VNĐ, …USD info@ino.com.vn | 02873000184 | ALP Technology Analog Oscilloscope (Dual Channel).