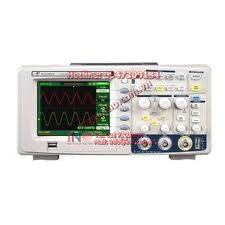 Lưu ý: Tham khảo ý kiến của nhân viên INO sẽ giúp bạn tiết kiệm được thời gian và chi phí khi cần mua sắm. ​​Với sự tư vấn của chúng tôi, bạn sẽ không gặp khó khăn khi tìm hiểu về đặc tính của sản phẩm cần mua.
Dual channel – channel bandwidth: 25MHz, 60MHz, 100MHz, 150MHz
The volume exquisite and it is convenient for carrying
Use Colored TFT LCD, the waveform display is clearer and stable
The real time sampling rate is 500MSa/
Memory depth of ALP1000 is 4K and that of ALP1000M is 2M
Trigger Modes: Edge, Pulse, Video, Slope, Alternative and Delay trigger modes
Front and Back USB Host/Device, GPIB
Unique Digital Filter function and Waveform recorder function
Waveform recorder function
Pass/Fail function
Thirty two parameters Auto measure function
Cursor measure covers Manual mode, Track mode and Auto mode
Channel waveform and it's FFT waveform display on split screen
Pop-up Menu display pattern is more convenient for users using it
Multiple Language User Interface
Support multilingual online help

Other model for this type equipment
Resource & Download
Lưu ý: Nếu một thiết bị nào đó không được liệt kê ở đây, điều đó không có nghĩa rằng chúng tôi không hỗ trợ được bạn về thiết bị đó.
Hãy liên hệ với chúng tôi
 để biết danh sách đầy đủ về thiết bị mà chúng tôi có thể hỗ trợ và cung cấp.
INO: Bán, Báo giá, tư vấn mua sắm và cung cấp, tư vấn sản phẩm thay thế; tương đương, hướng dẫn sử dụng, giá…VNĐ, …USD info@ino.com.vn | 02873000184 | ALP Technology Digital Oscilloscope (Dual Channel).