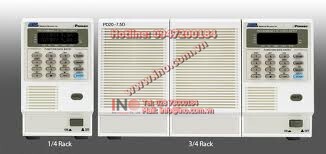 Lưu ý: Tham khảo ý kiến của nhân viên INO sẽ giúp bạn tiết kiệm được thời gian và chi phí khi cần mua sắm. ​​Với sự tư vấn của chúng tôi, bạn sẽ không gặp khó khăn khi tìm hiểu về đặc tính của sản phẩm cần mua.
AMREL PD Series is a Programmable Linear Power Supply for Rack and Stack and Benchtop applications. This series contains over 100 standard models of power supplies with the lowest output noise in the industry. Each model contains co-existent GPIB(SCPI)and RS232 Interfaces. Ethernet and USB Interfaces also available. Features include Constant Voltage/Constant Current Architecture, LCD Meter and Indicators, Series or Parallel Capability, Programmable Overvoltage Protection, Overcurrent Protection, Power Off Memory, External Programming capability, and Remote Sensing Capability. Power levels range from 20Watts to 1750Watts.
Lưu ý: Nếu một thiết bị nào đó không được liệt kê ở đây, điều đó không có nghĩa rằng chúng tôi không hỗ trợ được bạn về thiết bị đó.
Hãy liên hệ với chúng tôi
 để biết danh sách đầy đủ về thiết bị mà chúng tôi có thể hỗ trợ và cung cấp.
INO: Bán, Báo giá, tư vấn mua sắm và cung cấp, tư vấn sản phẩm thay thế; tương đương, hướng dẫn sử dụng, giá…VNĐ, …USD info@ino.com.vn | 02873000184 | American Reliance PD Series – Programmable DC Linear Power Supply.