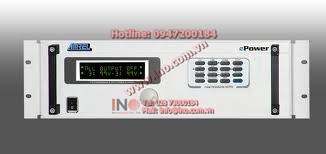 Lưu ý: Tham khảo ý kiến của nhân viên INO sẽ giúp bạn tiết kiệm được thời gian và chi phí khi cần mua sắm. ​​Với sự tư vấn của chúng tôi, bạn sẽ không gặp khó khăn khi tìm hiểu về đặc tính của sản phẩm cần mua.
AMREL's SPS Series of switch-mode power supplies are designed to provide excellent programming and read-back resolution and accuracy, in a high power density form factor. The SPS Series offers a Front Panel Keypad, GPIB, Ethernet and External Analog controls. Master/Slaving can be set up through the RS485 Interface. Power levels range from 1.2KW to 30KW
Lưu ý: Nếu một thiết bị nào đó không được liệt kê ở đây, điều đó không có nghĩa rằng chúng tôi không hỗ trợ được bạn về thiết bị đó.
Hãy liên hệ với chúng tôi
 để biết danh sách đầy đủ về thiết bị mà chúng tôi có thể hỗ trợ và cung cấp.
INO: Bán, Báo giá, tư vấn mua sắm và cung cấp, tư vấn sản phẩm thay thế; tương đương, hướng dẫn sử dụng, giá…VNĐ, …USD info@ino.com.vn | 02873000184 | American Reliance SPS Series – Programmable DC Switching Power Supply, 1.2kW to 30kW.