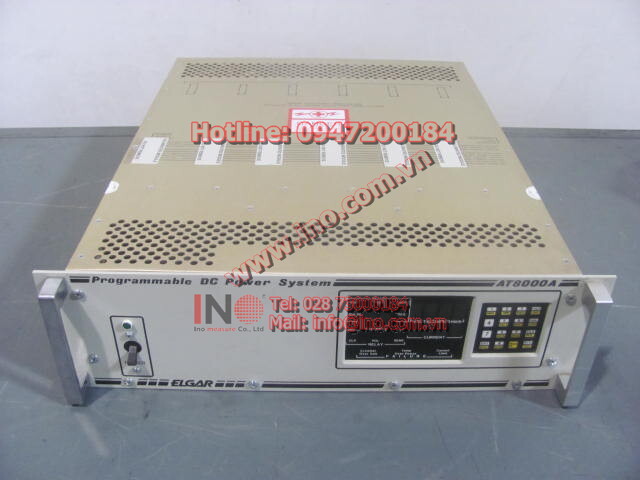 Lưu ý: Tham khảo ý kiến của nhân viên INO sẽ giúp bạn tiết kiệm được thời gian và chi phí khi cần mua sắm. ​​Với sự tư vấn của chúng tôi, bạn sẽ không gặp khó khăn khi tìm hiểu về đặc tính của sản phẩm cần mua.
Elgar's AT 8000A/B programmable multi output DC power system accepts both power supply and electronic load modules simultaneously in a single high density 5-1/4" mainframe.
Up to six fully independent channels of linear DC power and/or DC loads can be accommodated in one 19" wide rackmount chassis.
The system can be expanded to 16 channels in master/ expansion chassis configurations. It can be controlled either locally from the front-panel keyboard or remotely via IEEE-488 GPIB using one selectable bus address.
With the built-in test option, readback capability is available for voltage and current readings on DC power modules, Auxiliary Drive Modules (ADM's) and electronic DC loads.
High-Density Programmable Multi-Ouput Power Supply System
GPIB (IEEE-488) Interface
Full ATE Qualified – MATE & CIIL Programmability
Programmable Current, Voltage w/ Remote Sense Terminals
Integrated Output Relay and also Independent SCR Crowbar for Rapid Grounding (Discharge)
Lưu ý: Nếu một thiết bị nào đó không được liệt kê ở đây, điều đó không có nghĩa rằng chúng tôi không hỗ trợ được bạn về thiết bị đó.
Hãy liên hệ với chúng tôi
 để biết danh sách đầy đủ về thiết bị mà chúng tôi có thể hỗ trợ và cung cấp.
INO: Bán, Báo giá, tư vấn mua sắm và cung cấp, tư vấn sản phẩm thay thế; tương đương, hướng dẫn sử dụng, giá…VNĐ, …USD info@ino.com.vn | 02873000184 | Ametek / Elgar AT8000A/B.