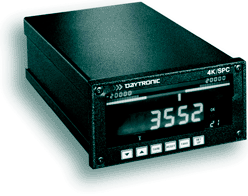 Lưu ý: Tham khảo ý kiến của nhân viên INO sẽ giúp bạn tiết kiệm được thời gian và chi phí khi cần mua sắm. ​​Với sự tư vấn của chúng tôi, bạn sẽ không gặp khó khăn khi tìm hiểu về đặc tính của sản phẩm cần mua.
A Model 4K/SPC-77 Single-Channel DC Strain Gage Statistical Process Control Instrument is connected to the load cell transducer of a conventional materials testing load frame. Using the analog peak capture capability of the Model 4077, the system captures and holds the maximum tensile load each tested part can withstand before material degradation begins to occur. The 4K/SPC-77 generates analytical data for any subgroup size from 2 to 25. It can display X-BAR, R, Standard Deviation, and Variance for the last complete subgroup, plus X-BAR-BAR, R-BAR, and Standard Deviation for the last 100 subgroups taken since SPC was reset. Control limits, warning limits, and specification limits are continuously indicated by front-panel bargraph displays.
Using front-panel push buttons, the operator can select any of up to 30 prespecified types of parts to be tested, without having to manually reconfigure the system. Also, the instrument can "learn" automatically what statistical control limits to apply to a given part, based on a standard ±3-sigma calculation, once a complete subgroup of samples has been taken. The operator need not be concerned with the entry of control limits (although fixed, user-entered limits can be used, if desired).
Like all 4000 Series models, the 4K/SPC-77 is a fully stand-alone instrument. Multiple units can be networked via RS485, however, so that a central supervisory computer can control the entire statistical process. The computer can send simple mnemonic commands to any 4K/SPC-77 "node" in order to interrogate for current subgroup status, current "history" status, and particular SPC data values. Commands also exist for halting and starting the statistical process, for resetting the current subgroup, and for resetting the entire statistical process (once a given test has been completed and the data safely offloaded from the 4K/SPC-77).

Resource & Download
Lưu ý: Nếu một thiết bị nào đó không được liệt kê ở đây, điều đó không có nghĩa rằng chúng tôi không hỗ trợ được bạn về thiết bị đó.
Hãy liên hệ với chúng tôi
 để biết danh sách đầy đủ về thiết bị mà chúng tôi có thể hỗ trợ và cung cấp.
INO: Bán, Báo giá, tư vấn mua sắm và cung cấp, tư vấn sản phẩm thay thế; tương đương, hướng dẫn sử dụng, giá…VNĐ, …USD info@ino.com.vn | 02873000184 | Daytronic Corporation, SPC Testing of Fastener Tensile Strength (4K/SPC-77).