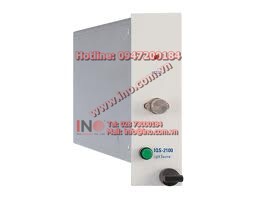 Lưu ý: Tham khảo ý kiến của nhân viên INO sẽ giúp bạn tiết kiệm được thời gian và chi phí khi cần mua sắm. ​​Với sự tư vấn của chúng tôi, bạn sẽ không gặp khó khăn khi tìm hiểu về đặc tính của sản phẩm cần mua.
Advanced testing environments require a high-performance, stable light source to guarantee accurate and reliable test results. Designed for optimal stability, the modular IQS-2100 and benchtop FLS-2100 offer this and more. Steady drive circuitry maximizes optical output power and maintains excellent stability, while precision optical components ensure low-loss, narrow-beam, truly efficient output coupling.
Key Features and Benefits
* Variable output power over a 10 dB range (6 dB range for LED sources)
* Adjustable power increments of 0.1 dB
* Stabilized laser sources
* User-friendly software solutions
ORL Measurement
Reduce interference-related problems when measuring a device's ORL with EXFO's large linewidth Fabry-Perot laser, the IQS-2100 ORL Light Source. This source is available at 1310 nm, 1550 nm and 1625 nm for use in EXFO's modular IQS-600 platform.

Resource & Download
Lưu ý: Nếu một thiết bị nào đó không được liệt kê ở đây, điều đó không có nghĩa rằng chúng tôi không hỗ trợ được bạn về thiết bị đó.
Hãy liên hệ với chúng tôi
 để biết danh sách đầy đủ về thiết bị mà chúng tôi có thể hỗ trợ và cung cấp.
INO: Bán, Báo giá, tư vấn mua sắm và cung cấp, tư vấn sản phẩm thay thế; tương đương, hướng dẫn sử dụng, giá…VNĐ, …USD info@ino.com.vn | 02873000184 | EXFO, High-Performance Optical Light Sources (IQS-2100).