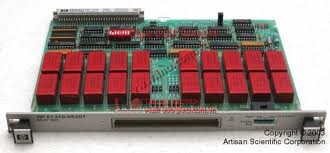 Lưu ý: Tham khảo ý kiến của nhân viên INO sẽ giúp bạn tiết kiệm được thời gian và chi phí khi cần mua sắm. ​​Với sự tư vấn của chúng tôi, bạn sẽ không gặp khó khăn khi tìm hiểu về đặc tính của sản phẩm cần mua.
The Agilent E1345A General-Purpose Reed Relay Multiplexer is a B-size, 1-slot, register-based VXI module that switches 16 channels of high, low, and guard each. The multiplexer has low thermal offset performance. This module consists of a B-size component card (labeled E1345-66201) and a screw terminal block that plugs onto the component card. The E1345A is functionally similar to the E1347A.
The E1345A multiplexer is arranged into two banks of eight switches, each having its own common high, low, and guard screw terminals accessible on the terminal block. Tree-switched common high, low, and guard screw terminals and analog bus connections provide access to all 16 channels. The module may be programmed as either a single 1 x 16 three-wire multiplexer, two independent 1 x 8 three-wire multiplexers (for four-wire &omega) or a 1 x 8 six-wire multiplexer.
1-Slot, B-size, register based

General purpose, low-offset relay multiplexer

Low thermal offset reed relays, < 4 µ V

16-channel 3-wire or 8-channel 4-wire multiplexer

Shunt/series signal conditioning elements

Channel scanning with Agilent DMMs
Resource & Download
Lưu ý: Nếu một thiết bị nào đó không được liệt kê ở đây, điều đó không có nghĩa rằng chúng tôi không hỗ trợ được bạn về thiết bị đó.
Hãy liên hệ với chúng tôi
 để biết danh sách đầy đủ về thiết bị mà chúng tôi có thể hỗ trợ và cung cấp.
INO: Bán, Báo giá, tư vấn mua sắm và cung cấp, tư vấn sản phẩm thay thế; tương đương, hướng dẫn sử dụng, giá…VNĐ, …USD info@ino.com.vn | 0869421303 | 02873000184 | Hewlett-Packard / Agilent Technologies, 16-Channel Low-Offset Relay Multiplexer (E1345A).