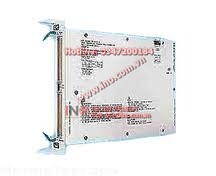 Lưu ý: Tham khảo ý kiến của nhân viên INO sẽ giúp bạn tiết kiệm được thời gian và chi phí khi cần mua sắm. ​​Với sự tư vấn của chúng tôi, bạn sẽ không gặp khó khăn khi tìm hiểu về đặc tính của sản phẩm cần mua.
The Agilent E8462A High-Density Relay Multiplexer is a C-size, 1-slot, register-based VXI module. This 256-channel multiplexer, using non-latching armature relays, offers a fast, reconfigurable, high point-count switching topology. This single-slot multiplexer extends the choices of multiplexers available to the system engineer.
The E8462A can be programmed into individual topologies, including two-wire, three-wire, and four-wire measurement configurations. See the attached Data Sheet for more information about this product and its capabilities.
1-Slot, C-size, register based

High-density, low-cost multiplexer

Flexible reconfiguration

Armature non-latching relay channels

Contact protection for reliable operation

Three different easy-to-use terminal blocks available as options
Resource & Download
Lưu ý: Nếu một thiết bị nào đó không được liệt kê ở đây, điều đó không có nghĩa rằng chúng tôi không hỗ trợ được bạn về thiết bị đó.
Hãy liên hệ với chúng tôi
 để biết danh sách đầy đủ về thiết bị mà chúng tôi có thể hỗ trợ và cung cấp.
INO: Bán, Báo giá, tư vấn mua sắm và cung cấp, tư vấn sản phẩm thay thế; tương đương, hướng dẫn sử dụng, giá…VNĐ, …USD info@ino.com.vn | 0869421303 | 02873000184 | Hewlett-Packard / Agilent Technologies, 256-Channel Relay Multiplexer (E8462A).