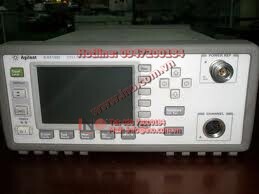 Lưu ý: Tham khảo ý kiến của nhân viên INO sẽ giúp bạn tiết kiệm được thời gian và chi phí khi cần mua sắm. ​​Với sự tư vấn của chúng tôi, bạn sẽ không gặp khó khăn khi tìm hiểu về đặc tính của sản phẩm cần mua.
The E4418B power meter is designed for bench and automatic test equipment (ATE) use.
Fast measurement speed (up to 200 readings per second, over the GPIB, with E-series sensors)

Speed improvement of x2 using the 8480 series power sensor (compared to the 437B)

No range-switching delays with 8480 series sensors, and only one fast-range switch point with E-series sensors

Code compatibility with 437B and 436A power meters

GPIB and RS232 connector for remote control of all functions

Internal rechargeable battery option provides up to 5.5 hours continuous use (option 001)

Resource & Download
Lưu ý: Nếu một thiết bị nào đó không được liệt kê ở đây, điều đó không có nghĩa rằng chúng tôi không hỗ trợ được bạn về thiết bị đó.
Hãy liên hệ với chúng tôi
 để biết danh sách đầy đủ về thiết bị mà chúng tôi có thể hỗ trợ và cung cấp.
INO: Bán, Báo giá, tư vấn mua sắm và cung cấp, tư vấn sản phẩm thay thế; tương đương, hướng dẫn sử dụng, giá…VNĐ, …USD info@ino.com.vn | 02873000184 | Hewlett-Packard / Agilent Technologies, EPM Series Single-Channel Power Meter (E4418B).