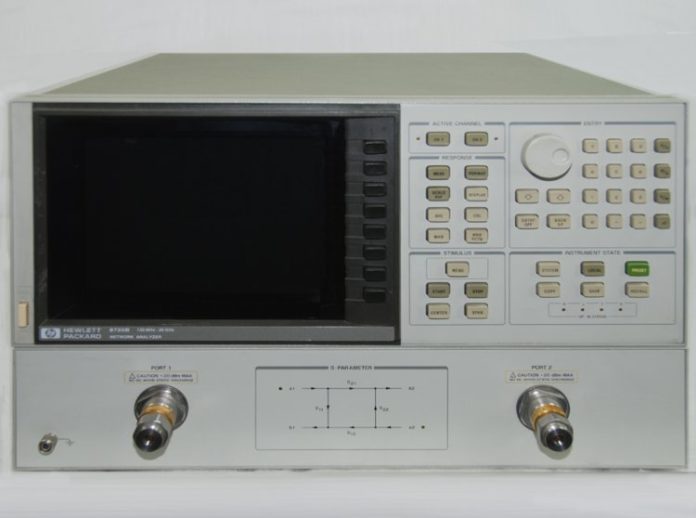 Lưu ý: Tham khảo ý kiến của nhân viên INO sẽ giúp bạn tiết kiệm được thời gian và chi phí khi cần mua sắm. ​​Với sự tư vấn của chúng tôi, bạn sẽ không gặp khó khăn khi tìm hiểu về đặc tính của sản phẩm cần mua.
The Agilent 8720B network analyzer is an instrument which measures the complex transmission and reflection characteristics of two-port devices in the frequency domain. It does this by sampling the incident signal, separating the transmitted and reflected waves, and then performing ratios that are directly related to the reflection and transmission coefficients of the two-port. Frequency is swept to rapidly obtain amplitude and phase information over a band of frequencies of interest.
Agilent 8720B network analyzers utilize synthesized-frequency sources to provide a known test stimulus that can sweep across a range of frequencies or power levels. Agilent 8720B network analyzers also can perform ratioed measurements (including phase), which require multiple receivers. The Agilent 8720B can provide a wealth of knowledge about a device under test (DUT), including its magnitude, phase, and group-delay response.
Resource & Download
Lưu ý: Nếu một thiết bị nào đó không được liệt kê ở đây, điều đó không có nghĩa rằng chúng tôi không hỗ trợ được bạn về thiết bị đó.
Hãy liên hệ với chúng tôi
 để biết danh sách đầy đủ về thiết bị mà chúng tôi có thể hỗ trợ và cung cấp.
INO: Bán, Báo giá, tư vấn mua sắm và cung cấp, tư vấn sản phẩm thay thế; tương đương, hướng dẫn sử dụng, giá…VNĐ, …USD info@ino.com.vn | 02873000184 | Hewlett-Packard / Agilent Technologies, HP – Agilent (8720B).