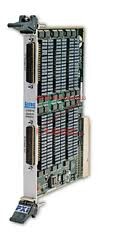 Lưu ý: Tham khảo ý kiến của nhân viên INO sẽ giúp bạn tiết kiệm được thời gian và chi phí khi cần mua sắm. ​​Với sự tư vấn của chúng tôi, bạn sẽ không gặp khó khăn khi tìm hiểu về đặc tính của sản phẩm cần mua.
Description
The GX6616 is a 6U PXI switch matrix board that provides either differential or single-ended multiplexing capability through software commands, along with six groups of 2×16 that may be used in various configurations.
Features
The GX6616 consists of six switching groups, A through F, which provide connections between two rows and 16 channels. Each switching group can be connected either horizontally or vertically to an adjacent group via on-board jumpers. Typical configurations
include:
Programming and Software
The board is supplied a 32-bit DLL driver. Various interface files provide access to the DLL from programming tools and languages such as ATEasy, LabVIEW, Microsoft® and Borland® C/C++, Microsoft Visual Basic®, Borland Delphi, and more. The available virtual panel can be used to interactively adjust and control the instrument from a window that displays the current instrument settings and measurements.
On-Line help file and PDF User's Guide provides documentation that includes instructions for installing, using and programming the board.
Resource & Download
Lưu ý: Nếu một thiết bị nào đó không được liệt kê ở đây, điều đó không có nghĩa rằng chúng tôi không hỗ trợ được bạn về thiết bị đó.
Hãy liên hệ với chúng tôi
 để biết danh sách đầy đủ về thiết bị mà chúng tôi có thể hỗ trợ và cung cấp.
INO: Bán, Báo giá, tư vấn mua sắm và cung cấp, tư vấn sản phẩm thay thế; tương đương, hướng dẫn sử dụng, giá…VNĐ, …USD info@ino.com.vn | 02873000184 | High Density Switch Matrix PXI Card (GX6616).