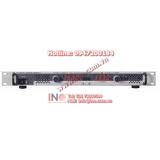 Lưu ý: Tham khảo ý kiến của nhân viên INO sẽ giúp bạn tiết kiệm được thời gian và chi phí khi cần mua sắm. ​​Với sự tư vấn của chúng tôi, bạn sẽ không gặp khó khăn khi tìm hiểu về đặc tính của sản phẩm cần mua.
* Switch mode topology for cool, efficient operation
* GPIB and isolated analog programming included on all models
* Built-in RS232 at no extra cost (standard Models only)
* LAN (LXI) control optional (E-Series Models only), replaces standard RS 232 interface
* 1U panel height at 1200 watts
* Front to back air flow allows full power operation without spacers between supplies
* Seven models: All models include GPIB interface. Standard models (no Suffix) include RS 232 interface, E-Series (E suffix) include LAN (LXI) interface:
KLP 10-150, KLP 20-120, KLP 36-60, KLP 75-33, KLP 150-16, KLP 300-8, KLP 600-4
* Wide-range a-c input, 88-265V a-c with PFC
To the right are 5 euro-block connectors providing remote metering and sensing outputs plus the current-share connection. The DIP switch adjacent to the GPIB connector provides for the selection of isolated analog programming by either voltage or resistance. The default is 0-10V or 0-10,000 Ohms, but the maximum levels can be set in the calibration routine to match whatever a user has available (0-5V, 0-3.3V etc.). The KLP has SELV analog programming referenced to chassis ground (same as the digital programming input). One of the DIP switches provides for hard lockout of the front panel controls for use when remote control is employed.

Resource & Download
Lưu ý: Nếu một thiết bị nào đó không được liệt kê ở đây, điều đó không có nghĩa rằng chúng tôi không hỗ trợ được bạn về thiết bị đó.
Hãy liên hệ với chúng tôi
 để biết danh sách đầy đủ về thiết bị mà chúng tôi có thể hỗ trợ và cung cấp.
INO: Bán, Báo giá, tư vấn mua sắm và cung cấp, tư vấn sản phẩm thay thế; tương đương, hướng dẫn sử dụng, giá…VNĐ, …USD info@ino.com.vn | 0869421303 | 02873000184 | Kepco Inc, KLP 36-60.