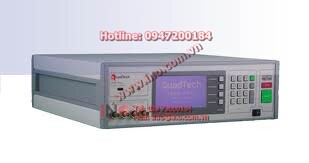 Lưu ý: Tham khảo ý kiến của nhân viên INO sẽ giúp bạn tiết kiệm được thời gian và chi phí khi cần mua sắm. ​​Với sự tư vấn của chúng tôi, bạn sẽ không gặp khó khăn khi tìm hiểu về đặc tính của sản phẩm cần mua.
Description
Swept Measurements: Fast and accurate swept parameter measurements, graphical or tabular, for verification of component and material response to changes in ac test frequency, ac test voltage or ac test current, without the need for complex programming or an external controller.
Program and Data Storage: Test setups can be stored and recalled either internal memory or from the USB memory stick. Measured data can be stored on a memory stick and then transferred to PC for data reduction and analysis.
Load Correction: Substantially improves instrument accuracy by performing measurements on a known standard and applying the correction to subsequent measurements. Ideal for repetitive testing of identical devices at like test conditions.
Automatic Calibration Procedure: The 7000 can be calibrated without returning the unit to the factory using the NIST traceable QuadTech Calibration Kit, reducing down time and calibration costs.
Easy to Use: Large LCD graphics display and user friendly menu driven interface allows the 7000 to be put on line quickly, providing useful measurements by operators with little to no training.
Features
Measures 14 Impedance Parameters (2 simultaneously)

0.05% Basic Measurement Accuracy

Programmable Frequencies from 10Hz to 2MHz

AC Test Voltage Programmable from 20mV to 5V

DC Bias Voltage, 2V Internal or 0 to 200V External

Fast Measurement Speeds up to 120/Second

Automatic Open/Short Zeroing Eliminates Connection Errors

High Resolution LCD with 7 Digit Display

14 Hi/Lo Sorting Bins for Pass/Fail Testing

RS-232, USB, Printer, IEEE-488 optional and PLC Interfaces all Standard

Results Displayed as Deviation or %Deviation from a Nominal Value

Internal Storage and Recall of Test Setups

Constant Voltage Maintained to the Device Under Test

Ability to Automatically Perform 6 Unique Tests in Sequence

Keypad Lockout Prevents Changes to the Test Setup

On site calibration with NIST Traceable Cal Kit

Programmable Average and Delay Times
Resource & Download
Lưu ý: Nếu một thiết bị nào đó không được liệt kê ở đây, điều đó không có nghĩa rằng chúng tôi không hỗ trợ được bạn về thiết bị đó.
Hãy liên hệ với chúng tôi
 để biết danh sách đầy đủ về thiết bị mà chúng tôi có thể hỗ trợ và cung cấp.
INO: Bán, Báo giá, tư vấn mua sắm và cung cấp, tư vấn sản phẩm thay thế; tương đương, hướng dẫn sử dụng, giá…VNĐ, …USD info@ino.com.vn | 02873000184 | QuadTech Inc, Plus Precision LCR Meter (7600).