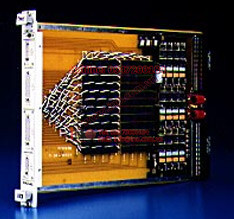 Lưu ý: Tham khảo ý kiến của nhân viên INO sẽ giúp bạn tiết kiệm được thời gian và chi phí khi cần mua sắm. ​​Với sự tư vấn của chúng tôi, bạn sẽ không gặp khó khăn khi tìm hiểu về đặc tính của sản phẩm cần mua.
Configurable as One 4×24 2-wire, Two 4×12 2-wire, or One 8×12 2-wire Matrices
20 MHz Bandwidth
True Matrix
Switches Signals up to 1 A and 250 V
Non-latching Relays (Open When Power is Lost)
The Racal Instruments™ 1260-40 module provides matrix switching in three configurations. The excellent bandwidth, isolation and crosstalk performance make it ideally suited to the most demanding applications requiring a true matrix.
The 1260-40 may be extended externally through use of expansion connectors located on the front panel. This allows larger matrices to be easily configured.
The 1260-40 utilizes relays at the row inputs of each one of the 4×16 matrix blocks. The guard relays are non-latching and revert to the open state when power is lost, therefore disconnecting the signal paths to the UUT upon removal of power from the test station. This is an important consideration in ATE because when power is returned to the test station, the UUT is guaranteed not to receive any unwanted signals.
Relay coil current monitoring is available to provide confidence checking, which gives the user assurance of proper relay operation.
The 1260-40 is controlled by the Option 01 message-based interface.
Resource & Download
Lưu ý: Nếu một thiết bị nào đó không được liệt kê ở đây, điều đó không có nghĩa rằng chúng tôi không hỗ trợ được bạn về thiết bị đó.
Hãy liên hệ với chúng tôi
 để biết danh sách đầy đủ về thiết bị mà chúng tôi có thể hỗ trợ và cung cấp.
INO: Bán, Báo giá, tư vấn mua sắm và cung cấp, tư vấn sản phẩm thay thế; tương đương, hướng dẫn sử dụng, giá…VNĐ, …USD info@ino.com.vn | 0869421303 | 02873000184 | Racal – Matrix Switch Module ( 1260-40).