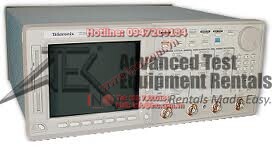 Lưu ý: Tham khảo ý kiến của nhân viên INO sẽ giúp bạn tiết kiệm được thời gian và chi phí khi cần mua sắm. ​​Với sự tư vấn của chúng tôi, bạn sẽ không gặp khó khăn khi tìm hiểu về đặc tính của sản phẩm cần mua.
Your designs may be digital but at today's speeds, many of your toughest problems aren't. Crosstalk noise. Transmission effects. Ground bounce. Not to mention sub-nanosecond edges. Today's design problems require high bandwidth oscilloscopes that can measure up to these challenges. The Digital Real-TimeTM architecture of the TDS620A Digital Real Time Oscilloscope simplifies capturing of intermittent signals or non-recurring problems like glitches or metastable states caused by setup and hold time violations. The TDS620A provides design engineers with excellent single shot accuracy for multi-channel, high speed signal characterization.
Features and Specifications:
Real-Time Bandwidth: 500MHz

Sample Rate: 2.5 GS/s

Channels: 2 + 2

Maximum Record Length: 15,000 pts

Vertical Resolution: 8-Bits/11-Bits w/avg.

Sensitivity: 1mV/div to 10 V/div

Vertical Accuracy: 1.5%

Time Measurement Accuracy: <100 ps typical @ 2.5 GS/s

Peak Detect: 1 ns

Waveform Pass/Fail Template Testing

Standard Probes: 2 P6139A Passive

Optional (05) Video Trigger, NTSC, PAL, HDTV, FlexFormat
Applications:
Digital Design Characterization and Verification

Telecommunications/Datacommunications

Transient Event Capture

High Energy Physics

And More…
Resource & Download
Lưu ý: Nếu một thiết bị nào đó không được liệt kê ở đây, điều đó không có nghĩa rằng chúng tôi không hỗ trợ được bạn về thiết bị đó.
Hãy liên hệ với chúng tôi
 để biết danh sách đầy đủ về thiết bị mà chúng tôi có thể hỗ trợ và cung cấp.
INO: Bán, Báo giá, tư vấn mua sắm và cung cấp, tư vấn sản phẩm thay thế; tương đương, hướng dẫn sử dụng, giá…VNĐ, …USD info@ino.com.vn | 02873000184 | Tektronix, 2 + 2 Channel Monochrome Digital Storage Oscilloscope (TDS 620B).