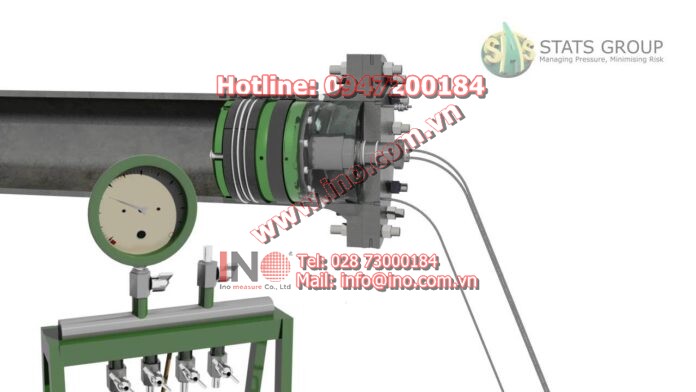 Hydrostatic Test | Axial Weld Tension Tool | Hydraulically Activated
Các câu hỏi, thắc mắc, thông tin liên quan đến sản phẩm được giới thiệu trong video dưới đây từ khâu mua sắm, lựa chọn, sử dụng, cài đặt hay thay thế, vui lòng liên hệ với INO Team để được hỗ trợ và tư vấn kịp thời.

– – – LƯU Ý – – -: Với những thiết bị không được liệt kê ở đây không có nghĩa là chúng tôi không hỗ trợ được bạn, công ty chúng tôi chuyên đề xuất giải pháp, tư vấn mua sắm và cung cấp thiết bị về cảm biến công nghiệp, đo lường và tự động hoá cho các công ty trong và ngoài nước.
Công ty TNHH Giải pháp và Công nghệ Đo lường INO, nhà cung cấp các thiết bị đo lường và tự động hóa công nghiệp.
STATS Axial Weld Tension Tools are available as a safe and efficient means of locally proving the leak tightness and structural soundness of welded, cold formed and mechanical-grip type pipe fittings.
Axial Weld Tension Tools provide independent test boundaries which support the testing requirements of the ASME Boiler and Pressure vessel code and equivalent universal codes and directives that stipulate the verification of structural integrity of a system repair or modification.
Axial Weld Tension Tools eliminate the need to flood and pressurise the entire piping system, eliminating the exposure of the existing system to a proof test pressure. Localised testing eliminates the need to dispose of a large volume of potentially contaminated test fluids. STATS Axial Weld Tension Tools are safe and simple to install and operate.
For more information visit – http://www.statsgroup.com/
Web: www.ino.com.vn | Mail: info@ino.com.vn
Ino sales: +84 86 9421303 | Ino admin: (+84) 028 73000184 | Hotline: 0947200184
Website: http://www.ino.com.vn Website: http://www.ino.vn
Please visit INO YouTube Channel for more Video
https://www.youtube.com/inomeasure