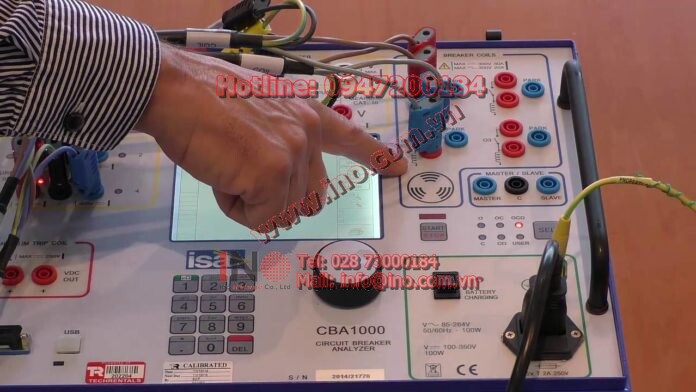 Learn How to Conduct Circuit Breaker Testing Using the ISA CBA1000
Các câu hỏi, thắc mắc, thông tin liên quan đến sản phẩm được giới thiệu trong video dưới đây từ khâu mua sắm, lựa chọn, sử dụng, cài đặt hay thay thế, vui lòng liên hệ với INO Team để được hỗ trợ và tư vấn kịp thời.

– – – LƯU Ý – – -: Với những thiết bị không được liệt kê ở đây không có nghĩa là chúng tôi không hỗ trợ được bạn, công ty chúng tôi chuyên đề xuất giải pháp, tư vấn mua sắm và cung cấp thiết bị về cảm biến công nghiệp, đo lường và tự động hoá cho các công ty trong và ngoài nước.
Công ty TNHH Giải pháp và Công nghệ Đo lường INO, nhà cung cấp các thiết bị đo lường và tự động hóa công nghiệp.
This video demonstrates how to setup the ISA CBA1000 to perform circuit breaker analysis with ease.
The ISA CBA1000 Circuit Breaker Analyser provides basic timing testing for both the circuit breaker main and auxiliary contacts. Features of this device include: 16 timing channels (6 main contacts, 6 resistive contacts, 4 aux contacts), up to 3 trip/1 close coils, and a motion and speed analyser (single analogue transducer input). The CBA1000 is suitable for testing EHV, HV, and MV circuit breakers. It is a standalone device that doesn't require a PC for operation as analysis and results can be easily viewed on the device. Accuracy: 100 µs ±0.025%.
For more information on test and measurement solutions or equipment please visit our website or follow us:
Website: http://www.techrentals.com.au
LinkedIn: http://www.linkedin.com/company/techrentals
Twitter: http://twitter.com/techrentals
Google+: http://www.google.com/+TechRentals
Web: www.ino.com.vn | Mail: info@ino.com.vn
Ino sales: +84 86 9421303 | Ino admin: (+84) 028 73000184 | Hotline: 0947200184
Website: http://www.ino.com.vn Website: http://www.ino.vn
Please visit INO YouTube Channel for more Video
https://www.youtube.com/inomeasure