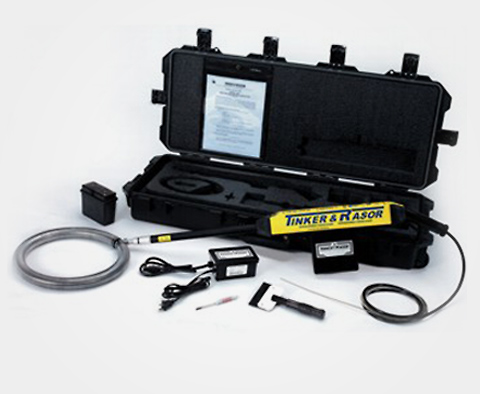 Lưu ý: Tham khảo ý kiến của nhân viên INO sẽ giúp bạn tiết kiệm được thời gian và chi phí khi cần mua sắm. ​​Với sự tư vấn của chúng tôi, bạn sẽ không gặp khó khăn khi tìm hiểu về đặc tính của sản phẩm cần mua.
Features:
800 volts to 35,000 volts in one instrument
Safety cutoff switch
Digital output display
Super bright LED display
Two volume Settings
Regulated voltage
Large push button controls
Greater battery efficiency
Compatible with Model AP/S1 & AP/S2 components and accessories
Open, ergonomic design
THREE YEAR WARRANTY
Model: 790 5Kv – 35Kv
Model: APS 800v – 35Kv =
Model: 785 1Kv – 15Kv
Model: 780 1Kv – 5Kv
The Model APS comes complete in kit form, including:
APS instrument and two batteries
Battery holder (batt box)
Ground cable, 20'
Wand handle, 18", with full circle spring electrode connector
Compax Connector for full circle electrodes
4" Rubber paddle electrode
Battery charger, 110v-220v
Voltage adjusting screwdriver
Adapter to use "Spy" Spring Electrodes
Mil-SPEC, carrying case
Instructions Manual
One electrode* (Click here to choose your electrode)
Applications:
Pipelines and other coated structures
Wide variety of coating materials
Thin to thick coatings
Calibration:
Dimensions:
2.5" x 21.5" x 2.75" (63.5mm x 546.1mm x 69.85mm) Instrument only
5" x 2.5" x 5.5" (127mm x 63.5mm x 139.7mm)Battery Box
40.5" x 17" x 7" (1-28.7mm x 431.8mm x 177.8mm) Carrying Case
Weight Approx: 40 lbs (18.14kg) Shipping Weight* (depending on electrodes)
Resource & Download
Lưu ý: Nếu một thiết bị nào đó không được liệt kê ở đây, điều đó không có nghĩa rằng chúng tôi không hỗ trợ được bạn về thiết bị đó.
Hãy liên hệ với chúng tôi
 để biết danh sách đầy đủ về thiết bị mà chúng tôi có thể hỗ trợ và cung cấp.
INO: Bán, Báo giá, tư vấn mua sắm và cung cấp, tư vấn sản phẩm thay thế; tương đương, hướng dẫn sử dụng, giá…VNĐ, …USD info@ino.com.vn | Tel: (+84) 028 73000184 | Tinker & Rasor – High Voltage Holiday Detector "Stick Type" (Model: APS)).