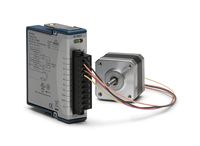 Lưu ý: Tham khảo ý kiến của nhân viên INO sẽ giúp bạn tiết kiệm được thời gian và chi phí khi cần mua sắm. ​​Với sự tư vấn của chúng tôi, bạn sẽ không gặp khó khăn khi tìm hiểu về đặc tính của sản phẩm cần mua.
3 A RMS (4.24 A peak) current per phase
Advanced PWM algorithm reduces torque ripple, minimizes power loss, and smoothes microstepping
Software-programmable full-step, half-step, and microstepping rates up to 256
Direct connectivity to 2-phase bipolar or unipolar hybrid stepper motors
Software-programmable current reduction for reduced power consumption
Create powerful custom motion control systems using the LabVIEW NI SoftMotion Module The NI 9501 is a C Series stepper motor drive for the NI CompactRIO platform. It adds integrated stepper motion abilities to a CompactRIO system without the need for an external power drive or connector block.

The NI 9501 benefits electronics engineers designing consumer appliances, industrial control engineers designing small- to medium-sized machines, and automotive engineers working on rapid prototyping applications by providing seamless motion integration with a proven measurement and control platform. With more than 100 NI and third-party C Series I/O modules to choose from, the CompactRIO platform offers a powerful option for integrating multiple measurement types, machine vision, and motion in one system, all powered by NI LabVIEW software.

For more information on compatible NI reconfigurable I/O (RIO) hardware platforms, stepper motors, and the benefits of stepper motor control with the LabVIEW NI SoftMotion Module, see the data sheet and the Resources tab.
Resource & Download
Additional Product Information
Lưu ý: Nếu một thiết bị nào đó không được liệt kê ở đây, điều đó không có nghĩa rằng chúng tôi không hỗ trợ được bạn về thiết bị đó.
Hãy liên hệ với chúng tôi
 để biết danh sách đầy đủ về thiết bị mà chúng tôi có thể hỗ trợ và cung cấp.
INO: Bán, Báo giá, tư vấn mua sắm và cung cấp, tư vấn sản phẩm thay thế; tương đương, hướng dẫn sử dụng, giá…VNĐ, …USD info@ino.com.vn | Tel: (+84) 028 73000184 | National Instruments – C Series Stepper Drive (Model: NI 9501).