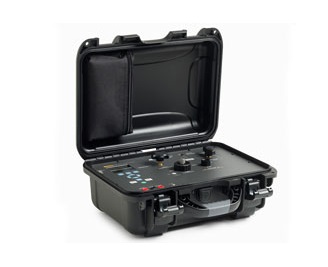 Lưu ý: Tham khảo ý kiến của nhân viên INO sẽ giúp bạn tiết kiệm được thời gian và chi phí khi cần mua sắm. ​​Với sự tư vấn của chúng tôi, bạn sẽ không gặp khó khăn khi tìm hiểu về đặc tính của sản phẩm cần mua.
The 3130 Portable Pneumatic Pressure Calibrator is ideal for calibrating pressure transmitters, transducers, gauges and similar devices. The 3130 contains everything you need to generate, control and measure pressure, as well as read the output of the device under test (DUT).
Features
Measure and generate pressures from vacuum to 2 MPa (300 psi, 20 bar)
Internal pump can generate vacuum to -80 kPa (-12 psi, -0.8 bar) or pressure to 2 MPa (300 psi, 20 bar)
Supply pressure connection allowing the use of external gas supply up to 2 MPa (300 psi, 20 bar)
Includes variable volume for fine adjustment of pressures
Pressure measurement accuracy of 0.025 % reading ± 0.01 % FS
Electrical measurement and 24 volt supply for close looped calibrations
Measure or generate 4 to 20 mA
Measure 0 to 30 V dc
Powered by internal, high capacity, NiMH battery or universal ac mains adapter
Compatible with Fluke 700P Pressure Modules
Pressure generation and control
The internal, motorized pump provides an easy, efficient alternative to time consuming, tiring hand pumps. For applications that involve filling a large volume with pressure, the 3130 allows for connection to an external gas supply such as compressed plant air. The pressure can be fine-tuned using the variable volume.
Pressure measurement
The 3130 offers an onboard pressure sensor with a full scale of 2 MPa (300 psi, 20 bar) and an accuracy of ± 0.025 % reading + 0.01 % FS (includes precision, one-year stability, uncertainty of the calibration standard, and temperature effects). In addition, the 3130 can be used with the Fluke 700P pressure module series to improve measurement performance across the entire range.
Electrical measurement
The 3130 offers electrical measurement capabilities for calibrating pressure transducers and transmitters, including measurements of 4 to 20 mA or 0 to 30 V dc. In addition, the 3130 provides 24 V dc supply to power the device under test and can generate current in the 4 to 20 mA range.
Portability
The 3130 is built into a ruggedized case with internal storage for power supply, test leads, and fittings. In addition, it includes a rechargeable, NiMH battery, allowing for approximately 50 hours of operation. When using the internal pump, the battery is sufficient to provide up to 100 calibration cycles to 300 psi. The battery is recharged by simply plugging the unit in using the included universal mains adapter.
Environmental

Operating temperature
-10 °C to +50 °C
Storage temperature
-20 °C to +60 °C
Power requirements
12 V dc (Universal ac adapter/charger supplied)
Battery
Internal 3800 mAh advanced NiMH pack

Operating time

On full charge
Approx 50 hours (Measure only or external air; no
pump)
Using internal pump
Approx 100 calibration cycles to 300 psi

Physical

Dimensions
15.25 in L x 12 in W x 7 in D
Weight
~7 kg (15 lb)
EMI/RFI conformance
EN61326:2006 Annex A
Connectors/ports
1/8 in NPT (External supply port and test port)
Included accessories
Manual, NIST-traceable certificate, test leads, universal
ac adapter/charger

Ranges

Pressure (internal pump)
-80 kPa to 2 MPa (-12 to 300 psi, -0.8 to 20 bar)
Pressure (external air)
0 to 2 MPa (0 to 300 psi, 0 to 20 bar)
mA
0 to 24.000 mA
Volts
0 to 30.000 V dc
Engineering units
psi, bar, mbar, kPa, MPa, kgf/cm2, mmH2O @ 4 °C,
mmH2O @ 20 °C, cmH2O @ 4 °C, cmH2O @ 20 °C,
inH2O @ 4 °C, inH2O @ 20 °C, inH2O @ 60 °F, mmHg
@ 0 °C, inHg @ 0 °C

Instrumental measurement uncertainty

Pressure
0.025 % of reading ± 0.01 % FS
mA
0.015 % of reading ± 0.002 mA
Volts
0.015 % of reading ± 0.002 V

Temperature effect (all functions)

No effect on accuracy on all functions from 15 °C to 35 °C
Add ± 0.002 % F.S./°C for temps outside of 15 °C to 35 °C
Resource & Download
Lưu ý: Nếu một thiết bị nào đó không được liệt kê ở đây, điều đó không có nghĩa rằng chúng tôi không hỗ trợ được bạn về thiết bị đó.
Hãy liên hệ với chúng tôi
 để biết danh sách đầy đủ về thiết bị mà chúng tôi có thể hỗ trợ và cung cấp.
INO: Bán, Báo giá, tư vấn mua sắm và cung cấp, tư vấn sản phẩm thay thế; tương đương, hướng dẫn sử dụng, giá…VNĐ, …USD info@ino.com.vn | Tel: (+84) 028 73000184 | FLuke-Portable Pressure Calibrator (Model:3130).