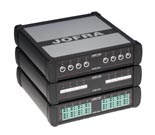 Lưu ý: Tham khảo ý kiến của nhân viên INO sẽ giúp bạn tiết kiệm được thời gian và chi phí khi cần mua sắm. ​​Với sự tư vấn của chúng tôi, bạn sẽ không gặp khó khăn khi tìm hiểu về đặc tính của sản phẩm cần mua.
The ASM series offer a great time-saving automatic solution to calibrate multiple temperature sensors at the same time. The ASM series is an eight channel scanner controlled by JOFRACAL software on a PC. Up to 3 ASM units can be stacked to calibrate up to 24 sensors at the same time. It can handle signals from 2-, 3- and 4 wire RTD's, TC's, transmitters, thermisters, temperature switches and voltage.
The ASM800 series is designed for use in all companies where temperature measurement is critical and/or there is a need to make traceable documents for the calibration. Easy, flexible and time-saving !
The ASM signal multi-scanner may be combined with any of your existing JOFRA dry-block or liquid bath calibrators. You can also use your JOFRA DTI reference thermometer or even the JOFRA ASC300 signal calibrator, which adds further value to your existing JOFRA equipment.
Models
The ASM multi-scanner is made in an A and a B model. The ASM B model is the complete solution with integrated scan-ner and high accuracy multi signal measuring circuits. The ASM A model is less expensive and is designed to add 8 channel scanning capabilities to an existing instrument. The A model therefore needs the measuring capabilities from a JOFRA dry-block ATC B model, JOFRA ASC300 signal calibrator, DTI-1000 reference thermometer or an ASM B model.
Applications
The ASM800 will fit into a lot of process industries and especially pharmaceutical, oil & gas and power plants. Original equipment manufacturers (OEM) will also benefit from calibrating and documenting multiple temperature sensors before final installation.

Resource & Download
Lưu ý: Nếu một thiết bị nào đó không được liệt kê ở đây, điều đó không có nghĩa rằng chúng tôi không hỗ trợ được bạn về thiết bị đó.
Hãy liên hệ với chúng tôi
 để biết danh sách đầy đủ về thiết bị mà chúng tôi có thể hỗ trợ và cung cấp.
INO: Bán, Báo giá, tư vấn mua sắm và cung cấp, tư vấn sản phẩm thay thế; tương đương, hướng dẫn sử dụng, giá…VNĐ, …USD info@ino.com.vn | Tel: (+84) 028 73000184 | Ametek Calibration Instruments-Advanced Signal Multi-scanner ( Model:ASM).