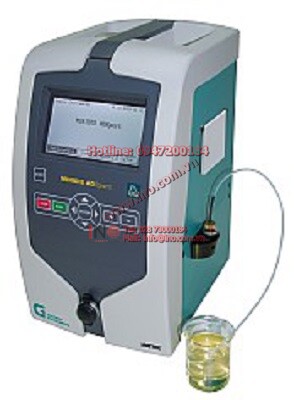 Lưu ý: Tham khảo ý kiến của nhân viên INO sẽ giúp bạn tiết kiệm được thời gian và chi phí khi cần mua sắm. ​​Với sự tư vấn của chúng tôi, bạn sẽ không gặp khó khăn khi tìm hiểu về đặc tính của sản phẩm cần mua.
Features
Excellent correlation to ASTM D86, ASTM D850, ISO 3405, IP 123, IP 195; Groups: 0 to 4
Performs exclusively according to the small scale distillation standard ASTM D7344
Automatic Measurement of Unknown Samples (no prior knowledge about the distillation group required)
New Method for Biodiesel detection
True atmospheric distillation
Dry Point detection
Automatic temperature controlled (Peltier) sample introduction system: no loss-errors due to manual sample handling
Use of disposable, cheap metal sample cups
User dialogue assures easy operation and guides operator through instructions for handling and calibration
Fast & easy operation, fully automatic cleaning program
Built-in pressure sensor for automatic barometric correction
Built-in balance for accurate residual determination
Highly accurate volume detection
10 different pre-installed programs for each group (0 to 4)
Special distillation points can be pre-defined
Test temperature: up to 400°C (up to 752°F)
Temperature resolution: ±0.1°C (±0.18°F)
Measuring sample volume: 6 ml
Rinsing sample volume: app. 15 ml
Measuring time: 15 minutes (gasoline)
Portable and rugged design for field use
Large graphic display
Serial2LAN-converter (option)
PC/printer interface and standard PC-keyboard connector
USB interfaces for enhanced connectivity and data transfer
USB printing
Options & Accessories:
Printer and PC recommended, MINIWIN software
Technical Data


Display

large graphics display, backlit
Test Temperature
0 – 400°C (32 – 752°F)
Temperature Resolution

+/-0.1°C (0.18°F)

Measuring Sample Volume
6 mL
Rinsing Sample Volume
~15 mL
Measuring Time (Gasoline)
15 minutes
Accuracy of Built-in Balance
+/-0.003 g
Communication Languages
German, English
Power Requirements

100/110/230/240 V AC, 50/60 Hz, 200 W

Field Application

12 V/10A DC (vehicle battery)

W x H x D
253 x 368 x 277 mm (10" x 14.5" x 10.9")
Weight
20 kg (44 lb)
Principle
The sample is introduced automatically into the disposable sample cup (2) and heated up with the electrical heating element (1) below. At the top of the distillation column (3) the temperature of the vapor is measured with a thermoelectric sensor (4). The volume of the condensate (7) is determined using a combination of an optical meniscus detection system (6) and a variable condenser chamber (5).
Portable and Automatic Mini-Distillation Analyzer


Resource & Download
Lưu ý: Nếu một thiết bị nào đó không được liệt kê ở đây, điều đó không có nghĩa rằng chúng tôi không hỗ trợ được bạn về thiết bị đó.
Hãy liên hệ với chúng tôi
 để biết danh sách đầy đủ về thiết bị mà chúng tôi có thể hỗ trợ và cung cấp.
INO: Bán, Báo giá, tư vấn mua sắm và cung cấp, tư vấn sản phẩm thay thế; tương đương, hướng dẫn sử dụng, giá…VNĐ, …USD info@ino.com.vn | Tel: (+84) 028 73000184 | Ametek-MINIDIS ADXpert Automatic Mini-Distillation.