Lưu ý: Tham khảo ý kiến của nhân viên INO sẽ giúp bạn tiết kiệm được thời gian và chi phí khi cần mua sắm. ​​Với sự tư vấn của chúng tôi, bạn sẽ không gặp khó khăn khi tìm hiểu về đặc tính của sản phẩm cần mua.
Features
MT8870A Universal Wireless Test Set
Designed for high volume smartphones, tablets and wireless modules manufacturing test applications
Wireless LAN, Cellular, Bluetooth, and other Short Range Wireless applications
Extended Frequency Range Accommodates Additional CW Testing, such as GPS sensitivity at 1.5 GHz
4 high performance modules in one small chassis
MU887000A TRX Test Module
Built-in signal generator and signal analyzer
160MHz wide measurement bandwidth for the latest WLAN 802.11ac standard
Wide frequency range from 10 MHz to 6 GHz
One module supporting multiple wireless standards
Built-in audio analyzer / audio generator (Option)
Description
The MT8870A Universal Wireless Test Set has been specifically designed for the high volume manufacturing test of all common cellular and short range wireless technologies. An MT8870A instrument mainframe can contain up to four MU887000A TRX test modules each capable of independent control by an external PC. Each module has an integrated Vector Signal Generator (VSA) and Vector Signal Analyzer (VSA) to perform both transmitter and receiver RF tests. The MT8870A with the MU887000A test module can be controlled by an external PC.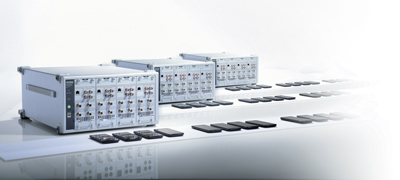 All-in-one platform accommodating 4 test modules

Up to four measurement modules can be installed in one main frame and each module can be controlled independently. The four installed modules share the same power supply, chassis, and internal bus interface, helping cut infrastructure costs.

Simultaneous measurement of 4 devices and parallel measurement of multiple wireless technologies

With four modules installed in the MT8870A, four test devices can be connected and measured in parallel simultaneously. Different technologies can be measured in parallel, helping reduce both measurement times and line test equipment footprint.

160 MHz measurement bandwidth as standard

The MU887000A TRX Test Module is able to perform RF transmitter / receiver testing of the latest WLAN standard 802.11ac wireless modules

Support multiple wireless standards

The MU887000A TRX Test module is able to support the RF (PHY) testing of both cellular (LTE, W-CDMA, GSM etc.) and Short Range Wireless (WLAN and Bluetooth) receivers and transmitters.
Supported Standards: LTE-FDD, LTE-TDD, W-CDMA/HSPA, TD-SCDMA, GSM/EDGE, CDMA2000, 1xEVDO, WLAN 802.11ac,
WLAN 802.11abgn, Bluetooth, FM, GPS, DVB-H, ISDB-T, ISDB-Tmm

| | |
| --- | --- |
| | |
| MX887013A LTE FDD Uplink TX Measurement | MX887031A 802.11ac TX Measurement |

The MT8870A Universal Wireless Test Set supports both Native and SCPI remote commands:

The Native commands are based on the MT8820C remote command set and have high compatibility, particularly for sequence measurements and UE calibration.

Built-in Audio analyzer and Audio Generator (Option)

Support mono audio and stereo audio with analog interface or digital interface helping reduce the equipment footprint for wireless module manufacturing.
Lưu ý: Nếu một thiết bị nào đó không được liệt kê ở đây, điều đó không có nghĩa rằng chúng tôi không hỗ trợ được bạn về thiết bị đó.
Hãy liên hệ với chúng tôi
 để biết danh sách đầy đủ về thiết bị mà chúng tôi có thể hỗ trợ và cung cấp.
INO: Bán, Báo giá, tư vấn mua sắm và cung cấp, tư vấn sản phẩm thay thế; tương đương, hướng dẫn sử dụng, giá…VNĐ, …USD info@ino.com.vn | Tel: (+84) 028 73000184 | Anritsu- Universal Wireless Test Set (Model:MT8870A).