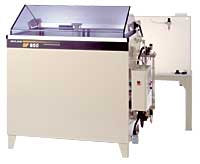 Lưu ý: Tham khảo ý kiến của nhân viên INO sẽ giúp bạn tiết kiệm được thời gian và chi phí khi cần mua sắm. ​​Với sự tư vấn của chúng tôi, bạn sẽ không gặp khó khăn khi tìm hiểu về đặc tính của sản phẩm cần mua.
SF cabinets are used to quickly qualify a coating or material on a pass-fail basis, or determine the probability of corrosion of a specific material.
SF applications include: Architectural, Chrome Plating, Fastners, Government, Military, Paints/Coatings, Laminated/Coated Plastics and Steel Structur
FEATURES
Durable steel cabinet with 55 gallon (208 l) solution reservoir with mixing system on stand

Cabinet heated by water jacket on four sides and bottom

Exposure zone lined with corrosion-resistant PVC sheets

Clear cover allows viewing of test conditions

Peaked cover prevents dripping of condensation onto samples

Water seal

Heated humidifying tower with air relief valve

Automatic DI water fill to humidifying tower

Automatic solution level control

Digital temperature control and readouts

Certified air pressure gauge accurate to 1 psi (6.9 kPa)

Integral over-protection on all heaters

Low water cut-off protection on humidifying tower

Two digital temperature controllers

Specifications and Dimensions (Testing Volume, Exposure Zone Dimensions, External Dimensions)

SF260 – 420L, 0.76 x 0.56 x 0.99 m, 1.07 x 0.97 x 1.52 m

SF500 – 555L, 0.76 x 0.74 x 0.99 m, 1.22 x 1.07 x 1.52 m

SF850 – 860L, 1.14 x 0.76 x 0.99 m, 1.57 x 1.07 x 1.52 m

SF2000 – 1930L, 1.83 x 1.07 x 0.99 m, 2.44 x 1.37 x 21.60 m

SF3600 – 2850L, 2.36 x 1.22 x 0.99 m, 3 x 1.52 x 1.60 m

SF4200 – 3680L, 3.05 x 1.22 x 0.99 m, 3.81 x 1.52 x 1.60 m
OPTIONS
Recorder, 2-pen circular chart, wet bulb and dry bulb

UL approval

Shut-down timer

SF combination exhaust condenser and wet bottom drain

SF exhaust recirculation system

Precision air regulator, accurate to 0.01 psi (0.069 kPa)

External collection package. Horizontal dispersion system

High temperature package

Chromasoft software

High voltage kit (over 480 VAC)

High capacity oil & water extractor

Custom sizes (extra height or any LxW) and configurations (pass-through electrical/mechanical ports)
STANDARDS
ISO 9227
Corrosion tests in artificial atmospheres – Salt spray tests
Resource & Download
Lưu ý: Nếu một thiết bị nào đó không được liệt kê ở đây, điều đó không có nghĩa rằng chúng tôi không hỗ trợ được bạn về thiết bị đó.
Hãy liên hệ với chúng tôi
 để biết danh sách đầy đủ về thiết bị mà chúng tôi có thể hỗ trợ và cung cấp.
INO: Bán, Báo giá, tư vấn mua sắm và cung cấp, tư vấn sản phẩm thay thế; tương đương, hướng dẫn sử dụng, giá…VNĐ, …USD info@ino.com.vn | Tel: (+84) 028 73000184 | Atlas – determine the probability of corrosion (Model :Traditional Salt fog (Spray) and Humidity Cabinet).