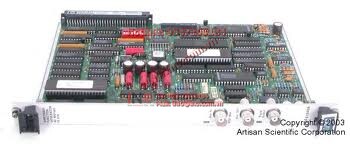 Lưu ý: Tham khảo ý kiến của nhân viên INO sẽ giúp bạn tiết kiệm được thời gian và chi phí khi cần mua sắm. ​​Với sự tư vấn của chúng tôi, bạn sẽ không gặp khó khăn khi tìm hiểu về đặc tính của sản phẩm cần mua.
The Agilent E1340A Arbitrary Function Generator is a B-size, 1- slot, register-based VXI module. It has the performance and flexibility expected in higher-priced function generators. Arbitrary waveforms, standard waveforms, sweep, FSK, and waveform hopping are all included. The simple B-size architecture provides these features at a low price.
The 12-bit DAC and the analog circuitry were designed to produce reliable signals. The sinewave flatness and total harmonic distortion are better than most function generators on the market. Many applications demand more than a simple function generator and more than a simple arbitrary waveform generator. The E1340A combines many of these features into a single product.
1-Slot, B-size, register based

12-bit, 42 MSa/s

16 kSa RAM

Full featured signal source

Arb. & std. waveforms, sweep, FSK, waveform hopping
Resource & Download
Lưu ý: Nếu một thiết bị nào đó không được liệt kê ở đây, điều đó không có nghĩa rằng chúng tôi không hỗ trợ được bạn về thiết bị đó.
Hãy liên hệ với chúng tôi
 để biết danh sách đầy đủ về thiết bị mà chúng tôi có thể hỗ trợ và cung cấp.
INO: Bán, Báo giá, tư vấn mua sắm và cung cấp, tư vấn sản phẩm thay thế; tương đương, hướng dẫn sử dụng, giá…VNĐ, …USD info@ino.com.vn | Tel: (+84) 028 73000184 | Hewlett-Packard / Agilent Technologies, Arbitrary Function Generator, B-size (E1340A).