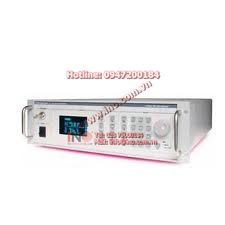 Lưu ý: Tham khảo ý kiến của nhân viên INO sẽ giúp bạn tiết kiệm được thời gian và chi phí khi cần mua sắm. ​​Với sự tư vấn của chúng tôi, bạn sẽ không gặp khó khăn khi tìm hiểu về đặc tính của sản phẩm cần mua.
The LDC-3926 16-Channel Laser Diode Controller offers 16 channels of high power laser diode current source and temperature control in a space saving rack mountable instrument. ILX Lightwave designed the LDC-3926 to meet the increasing pump laser control demands of high power optical amplifiers. With up to 6A available per channel, the LDC-3926 offers the only 16-channel modular instrument for development and production testing of high power optical amplifiers and pump lasers. Two high current output modules were specifi cally developed for the LDC-3926. A 42W, 6A laser current control module offers 4-wire forward voltage measurement, independent modulation, and enhanced laser diode protection with adjustable forward voltage. A 48W, 6A TEC control module offers precise temperature control with high stability and TE voltage measurement. For even more fl exibility, the LDC-3926 accepts all ILX LDC-3916 control modules. For automated control of all sixteen channels, the LDC-3926 Laser Diode Controller comes with a GPIB/IEEE-488 compliant remote control interface and an RS-232 serial interface.
16 independent, isolated channels for laser and TEC control

Up to 6A laser control per channel for higher power laser diodes with 48W of TEC control

Compatible with all ILX LDC-3916 modules

Low noise, high stability constant current and constant power laser operation with all modules

4-wire laser voltage measurement with all modules

High stability temperature control

TE voltage measurement

GPIB/IEE-488 and RS-232 serial interfaces
Resource & Download
Lưu ý: Nếu một thiết bị nào đó không được liệt kê ở đây, điều đó không có nghĩa rằng chúng tôi không hỗ trợ được bạn về thiết bị đó.
Hãy liên hệ với chúng tôi
 để biết danh sách đầy đủ về thiết bị mà chúng tôi có thể hỗ trợ và cung cấp.
INO: Bán, Báo giá, tư vấn mua sắm và cung cấp, tư vấn sản phẩm thay thế; tương đương, hướng dẫn sử dụng, giá…VNĐ, …USD info@ino.com.vn | Tel: (+84) 028 73000184 | ILX Lightwave, High-Power 16-Channel Laser Diode Controller (LDC-3926).