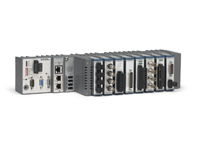 Lưu ý: Tham khảo ý kiến của nhân viên INO sẽ giúp bạn tiết kiệm được thời gian và chi phí khi cần mua sắm. ​​Với sự tư vấn của chúng tôi, bạn sẽ không gặp khó khăn khi tìm hiểu về đặc tính của sản phẩm cần mua.
High-performance multicore system for intense embedded monitoring and control applications
1.33 GHz dual-core Intel Core i7 processor, 32 GB nonvolatile storage, 2 GB DDR3 800 MHz RAM
1 MXI-Express, 4 USB Hi-Speed, 2 Gigabit Ethernet, and 2 serial ports for connectivity and expansion
8-slot Spartan-6 LX150 FPGA chassis for custom I/O timing, control, and processing
Microsoft Windows Embedded Standard 7 and VGA graphics for a built-in user interface
0 °C to 55 °C operating temperature range.
The high-performance multicore NI cRIO-9082 system provides advanced Intel Core i7 dual-core processing, built-in VGA display output for an integrated user interface, and the option to use a Microsoft Windows Embedded Standard 7 (WES7) or LabVIEW Real-Time OS. The increased processing power of the cRIO-9082 makes it well suited to perform the advanced processing tasks required by complex applications such as machine vision and rapid control prototyping. Choose WES7 on the cRIO-9082 and take advantage of the extensive Windows ecosystem of software and display capabilities made possible by LabVIEW software. The high-performance multicore cRIO-9082 also offers the widest array of connectivity and expansion options available in the CompactRIO platform, including the high-bandwidth and low-latency MXI-Express bus for expansion using the 14-slot MXI-Express RIO chassis.
Local FPGA compilation on the Windows CompactRIO system is not supported. Remote FPGA compilation on-site or through the LabVIEW FPGA Compile Cloud Service is required.
Resource & Download
Lưu ý: Nếu một thiết bị nào đó không được liệt kê ở đây, điều đó không có nghĩa rằng chúng tôi không hỗ trợ được bạn về thiết bị đó.
Hãy liên hệ với chúng tôi
 để biết danh sách đầy đủ về thiết bị mà chúng tôi có thể hỗ trợ và cung cấp.
INO: Bán, Báo giá, tư vấn mua sắm và cung cấp, tư vấn sản phẩm thay thế; tương đương, hướng dẫn sử dụng, giá…VNĐ, …USD info@ino.com.vn | Tel: (+84) 028 73000184 | National Instruments – 1.33 GHz Dual-Core Controller and LX150 FPGA With Windows OS (Model: NI CRIO-9082).