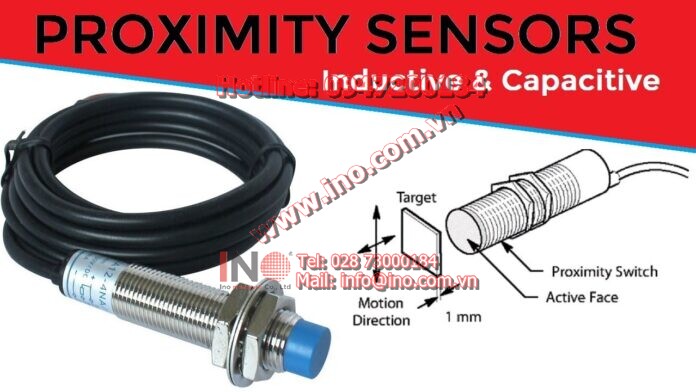 Inductive & Capacitive Proximity Sensor as Object Detector
Các câu hỏi, thắc mắc, thông tin liên quan đến sản phẩm được giới thiệu trong video dưới đây từ khâu mua sắm, lựa chọn, sử dụng, cài đặt hay thay thế, vui lòng liên hệ với INO Team để được hỗ trợ và tư vấn kịp thời.

– – – LƯU Ý – – -: Với những thiết bị không được liệt kê ở đây không có nghĩa là chúng tôi không hỗ trợ được bạn, công ty chúng tôi chuyên đề xuất giải pháp, tư vấn mua sắm và cung cấp thiết bị về cảm biến công nghiệp, đo lường và tự động hoá cho các công ty trong và ngoài nước.
Công ty TNHH Giải pháp và Công nghệ Đo lường INO, nhà cung cấp các thiết bị đo lường và tự động hóa công nghiệp.
A proximity sensor detects an object when the object approaches within the detection boundary of the sensor. Proximity sensors are used in various facets of manufacturing for detecting the approach of metal objects.
Various types of proximity sensors are used for detecting the presence or absence of an object. The design of a proximity sensor can be based on a number of principles of operation, some examples include variable reluctance, eddy current loss, saturated core, and Hall Effect. Depending on the principle of operation, each type of sensor will have different performance levels for sensing different types of objects.
Common types of non-contact proximity sensors include inductive proximity sensors, capacitive proximity sensors, ultrasonic proximity sensors, and photoelectric sensors. Hall-effect sensors detect a change in polarity of a magnetic field.
In this video, we have explained about working principle of Inductive & Capacitive Proximity Sensor with Video Demonstration. An object detection circuit using inductive and capacitive proximity sensor is also given
For learning more visit: https://how2electronics.com/inductive-capacitive-proximity-sensor/
Drop a like if you liked the video.
Don't forget to subscribe to our channel for more Electronics projects and tutorials.
Website: https://how2electronics.com/
Facebook: https://www.facebook.com/electronicsbyalex/
Web: www.ino.com.vn | Mail: info@ino.com.vn
Tel: (+84) 028 73000184 | Hotline: 0947200184
Website: http://www.ino.com.vn Website: http://www.ino.vn
Please visit INO YouTube Channel for more Video
https://www.youtube.com/inomeasure