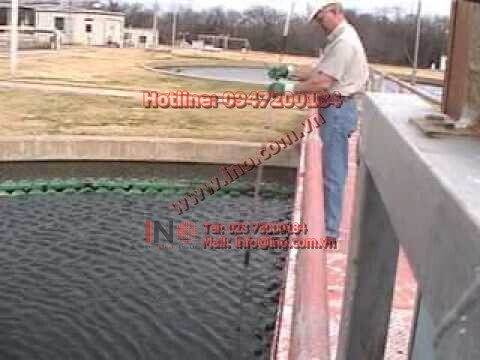 Sludge Measurement Techniques Compared

A comparison is made between 3 different speeds in making a sludge blanket measurement. First is a deliberate slow method. Second method is faster and third method is even faster still. Last we return to a deliberate slow method to validate results.
To use:
1. Slowly lower the Sludge Judge® to the bottom of the tank. The float valve opens, allowing materials to flow in. When the bottom has been reached and the pipe has filled to the surface level, tug slightly on the rope as the unit is raised. This sets the check valve, trapping the mixture inside.
2. When the unit has been raised clear of the liquid, the amount of solids in the sample can be read using the 1 ft. (0.31 m) increments marked on the pipe sections. To release the material in the unit, touch the pin extending from the bottom section against a hard surface. This opens the check valve to drain the sample.
Web: www.ino.com.vn | Mail: info@ino.com.vn Tel: (+84) 028 73000184 | Hotline: 0947200184 Website: http://www.ino.com.vn Website: http://www.ino.vn Please visit INO YouTube Channel for more Video https://www.youtube.com/inomeasure