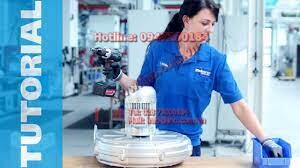 You want to change the blower housing of your industrial blower from Elektror airsystems? In this tutorial our colleague Sophia explains all steps of rebuilding the housing position. You can find more tutorials about the start-up of our blowers on https://www.youtube.com/channel/UCxAUVPkPQaINXAfTH9fNdDQ
Elektror is one of the leading manufacturers of industrial fans, industrial blowers and side channel blowers. Its product portfolio includes centrifugal fans, axial fans, roof fans, conveying blowers, ATEX fans, free-wheeling radial fans as well as single and double-sided side channel blowers. Our decades of experience in industrial fan construction and in ventilation and air technology enable us to manufacture the right industrial blower for virtually any application. Find more information on http://www.elektror.de/en/
Further hints:
The workflow shown in the video only is applicable to devices with foot base. Other devices might differ in rebuilding. Please bear in mind that warranty will expire if you open the housing. For further information on our blowers please refer to the corresponding instruction manual: http://www.elektror.de/en/consulting_service/downloads

– LƯU Ý –: Với những thiết bị không được liệt kê ở đây không có nghĩa là chúng tôi không hỗ trợ được.
Công ty chúng tôi chuyên: đề xuất, tư vấn, thay thế và cung cấp thiết bị về cảm biến công nghiệp, thiết bị đo lường và tự động hoá cho các nhà máy sản xuất.
Công ty TNHH Giải pháp và Công nghệ Đo lường INO, đơn vị chuyên cung cấp các thiết bị đo lường và tự động hóa công nghiệp.
Mail: info@ino.com.vn |
Tel: (+84) 028 73000184 | Hotline: 0947200184 |
Website: http://www.ino.com.vn | www.ino.vn
Please visit INO YouTube Channel for more Video
https://www.youtube.com/inomeasure