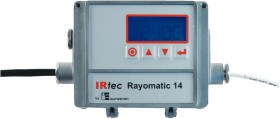 Lưu ý: Tham khảo ý kiến của nhân viên INO sẽ giúp bạn tiết kiệm được thời gian và chi phí khi cần mua sắm. ​​Với sự tư vấn của chúng tôi, bạn sẽ không gặp khó khăn khi tìm hiểu về đặc tính của sản phẩm cần mua.
IRtec RAYOMATIC 14 is an infrared thermometer of 8-14 µm spectral response measuring up to 1000°C with a specific design that makes it suitable for a large number of industrial applications, even when the process installation is hardly accessible. The instrument consists in two pieces, a miniature sensing head with separate electronics. The stainless steel sensing head as well as the Teflon-coated cable enables them to resist high ambient temperatures up to 180°C.
The emissivity can be manually adjusted or through a keyboard from 0.10 to 1.00.
Various analogue outputs (0/4-20 mA, 0-10 V, J-type or K-type thermocouple) and optional digital interfaces (USB, RS232) are available. Easily accessible programming keys and a backlit LCD display allow on-site adjustment of essential parameters.
High and low level alarms can be set using the instrument keyboard or from PC. The alarm status is displayed by the display backlit color (blue / green / red). The alarm can be connected to the optional relay output board.
A dual laser pointer integrated in standard shows the actual size of the target (True Target Size, TTS) at different distances. This unique and innovative system overtakes the traditional dual crossed laser pointer and guarantees the identification of the real target surface area regardless of the optics.
Key features of RAYOMATIC 14:
Monitoring high temperatures to 1000°C
Accessing to small and high ambient temperature areas with a miniaturized head protected to 180°C
Making measurements on a very small and defined target with a 95:1 optics or close focus lens Programmable alarms
Dual red laser pointer with True Target Size system
Infrared temperature measurement
Models
814-1
814-14
814-25
814-95LS1
Temperature range
-40 to 600°C
-40 to 900°C
-40 to 1000°C
-40 to 1000°C
Spectral response
8 – 14 µm
Optics D: S
2:1
14:1
25:1
95:1
Accuracy
± 1% RDG or ± 1°C whichever is greater (T> -20°C; ambient temperature +23°C ± 5°C)
Repeatability
± 0.5% RDG or ± 0.5°C whichever is greater
Resolution
± 0.1°C / °F
Temperature coefficient
± 0.05% / K or ± 0,05 K / K whichever is greater
Response time
150 ms (95%)
Emissivity
Adjustable from 0.100 to 1.100 manually or digitally
Working temperature
Sensing heads:25:1 miniaturized head: -20 to 180°C

2:1 and 14:1 heads: -20 to 120°C

95:1 TTS head: -20 to 85°C (-20 to 50°C with laser on)

Electronic box: 0 to 65 °C

Calculation functions
Average, max, min, diff, ambient temperature compensation
Digital interfaces
USB, RS232 (option)
Output
Object temperature: 0 – 20 mA / 4 – 20 mA / 0 – 5 V / 0 – 10 V / thermocouple type J ou KHead temperature: 0 – 5 V / 0 – 10 V / 10 mV / K / alarm output

Relays: 2 x 60 VDC/AC, 0.4 A; optically isolated (optional module)
Resource & Download
Lưu ý: Nếu một thiết bị nào đó không được liệt kê ở đây, điều đó không có nghĩa rằng chúng tôi không hỗ trợ được bạn về thiết bị đó.
Hãy liên hệ với chúng tôi
 để biết danh sách đầy đủ về thiết bị mà chúng tôi có thể hỗ trợ và cung cấp.
INO: Bán, Báo giá, tư vấn mua sắm và cung cấp, tư vấn sản phẩm thay thế; tương đương, hướng dẫn sử dụng, giá…VNĐ, …USD info@ino.com.vn | Tel: (+84) 028 73000184 | AOIP-Process infrared thermometer with deported head – 8-14 µm (Model:RAYOMATIC 14).