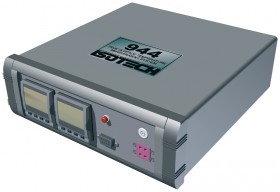 Lưu ý: Tham khảo ý kiến của nhân viên INO sẽ giúp bạn tiết kiệm được thời gian và chi phí khi cần mua sắm. ​​Với sự tư vấn của chúng tôi, bạn sẽ không gặp khó khăn khi tìm hiểu về đặc tính của sản phẩm cần mua.
 The fundamental problem with surface temperature measurement is that it is subject to large stem conduction errors, also because heat conducted from the surface of the hot plate causes a localized cold spot to be created. It means that the temperature indicated by the hot plate is not necessarily the temperature at the point of measurement.
An ideal system would not disturb the heat flux from the hot plate, which is exactly what 944 system does.
Principle of operation
A fine wire type N thermocouple is used as the surface temperature sensor. A second junction of 2 to 3 mm along the thermocouple senses the temperature difference due to heat flux along the sensor.
A heater heats the thermocouple stem until the temperature gradient is zero, thus creating a measurement without stem conduction, or disturbance of the hot plate's surface.
944 system can be used with the surface sensor calibrator 983.
Temperature range
30°C to +350°C
Stability
±1°C
Accuracy
±2°C with traceable certification
±5°C without certification
Probe assembly
Diameter: 7.5 mm
Length: 150 mm
Lead length: 850 mm
General specifications
| | |
| --- | --- |
| Size | 90 x 153 x 265 mm |
| Weight | 4 kg |
| Display | Resolution: 0.1°C or 0.1°F |
| Power supply | 100 / 120 V (50/60 Hz) or 200 / 240 V (50/60 Hz) |
Resource & Download
Lưu ý: Nếu một thiết bị nào đó không được liệt kê ở đây, điều đó không có nghĩa rằng chúng tôi không hỗ trợ được bạn về thiết bị đó.
Hãy liên hệ với chúng tôi
 để biết danh sách đầy đủ về thiết bị mà chúng tôi có thể hỗ trợ và cung cấp.
INO: Bán, Báo giá, tư vấn mua sắm và cung cấp, tư vấn sản phẩm thay thế; tương đương, hướng dẫn sử dụng, giá…VNĐ, …USD info@ino.com.vn | Tel: (+84) 028 73000184 | AOIP-True surface temperature measurement system (Model:944).