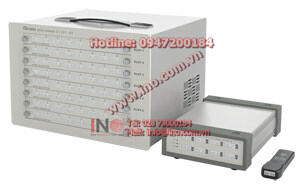 Lưu ý: Tham khảo ý kiến của nhân viên INO sẽ giúp bạn tiết kiệm được thời gian và chi phí khi cần mua sắm. ​​Với sự tư vấn của chúng tôi, bạn sẽ không gặp khó khăn khi tìm hiểu về đặc tính của sản phẩm cần mua.
It is a general requirement to record temperatures, voltages, currents, and many physics quantities during research, product development, productions, and quality assurance processes. The number of record channels can be a simple one to several complicated set of hundreds. Thermal/multi-function data loggers are prefect solutions to serve for these measurement and tracking needs.
There are several measurement products in the market to perform such a largescale and extensive time varying recording. Some are expensive, some are limited in accuracy or resolution, and some have low immunity to interference. Chroma thermal/multi-function data loggers are by far the most cost-effective solutions for versatility, accuracy, stability, and interference immunity among this category.
Chroma thermal/multi-function data loggers measure temperatures, voltages, and currents with high accuracy and resolutions. For example, they support 8 types of thermal couples measurement with ITS-90 defined temperature range at 0.3 ˚C accuracy and 0.01˚C resolution*, while most data loggers in the market are at 1 ˚C accuracy and 0.1˚C resolution*. Chroma loggers are with 1000VDC channel to channel isolation, which means they can attach thermal couples to objects with high electricity, such as batteries, solar cells, working PCB, etc., and still get correct data. Many competitors are just malfunctioned or even damaged in those cases. Data retrieve in Chroma loggers are in a parallel architecture, while most of competitors use a sequential multiplexing method. This means data rate per channel is quick and constant for Chroma loggers, while others become much slower when number of channels is bigger.
Using Chroma thermal/multi-function data loggers, customers get confidence in measured data and high Performance/Cost ratio. Most of all, we can help in certain cases that our competitors fail, and only Chroma succeeds.
Key Features:
Models with 1, 8, and 64 channels on-line data recording. Multi-sets linked to a PC for hundreds of channels are doable
Support B, E, J, K, N, R, S, and T type thermal couples with ITS-90 defined temperature range
Individual channel cold junction compensation with <±0.3˚C accuracy
Temperature resolution up to 0.01˚C, error down to (0.01% of reading+0.3˚C)
Voltage full range ±480VDC, resolution 1mV,error down to (0.1% of reading+1mV)
1000VDC channel to channel isolation, full protection for testing points with charge and guarantee for accurate measurements
Thermal couple open circuit detection
PC-based operation with powerful software for recording and analyzing data
1 and 8 channel models are USB powered. No battery or external power supply is required
Lưu ý: Nếu một thiết bị nào đó không được liệt kê ở đây, điều đó không có nghĩa rằng chúng tôi không hỗ trợ được bạn về thiết bị đó.
Hãy liên hệ với chúng tôi
 để biết danh sách đầy đủ về thiết bị mà chúng tôi có thể hỗ trợ và cung cấp.
INO: Bán, Báo giá, tư vấn mua sắm và cung cấp, tư vấn sản phẩm thay thế; tương đương, hướng dẫn sử dụng, giá…VNĐ, …USD info@ino.com.vn | Tel: (+84) 028 73000184 | Chroma ATE-Thermal/Multi-Function Data Logger (Model 51101 series).