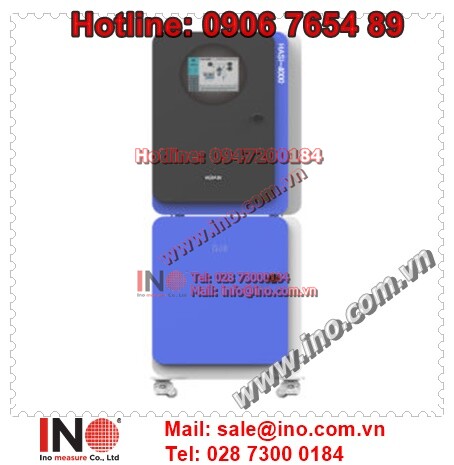 Online Silica Analyzer, HASI-4000, is a measuring equipment designed to enable measurement of low concentration range silica by using absorption spectrophotometry (molybdic acid blue method). HASI-4000 continuously measures the silica concentration in boiler water or ultrapure water for cleaning semiconductor by using Heteropoly blue method, and it can be also usefully applied for efficiency of driving turbine in power plant or QC in semiconductor chemical industry.
Characteristics
HASI-4000
Distribution of Sample and Reagent Using Multi-channel Valves
Quantitative distribution of sample and reagent by using patented multi-channel valve system
Use of high-performance micro-pulse control pump
Accurate measurement of sample and reagent through correction per channel
Immediacy & Expandability
                 Immediacy
Response within 15 minutes
                 Expandability
Enables various water quality measurements using colorimetric method through change of only reagent and wavelength, if necessary
               Convenience
3-point calibration and auto calibration function
Easy and simple operation, self diagnosis
               Operation
Easy maintenance by simplification of the flow channel
Easy operation by private-labeled operation program
Specification
Silica (Si)
Absorbance spectrophotometry (Molybdic acid blue method)
0~5mg/L (Other ranges are available upon request)
810nm
15 minutes (Adjustable)
0.01mg/L F.S.
±2% F.S.
±2% F.S.
Auto/manual calibration by standard solution
Photodiode detector
Sample/Reagent measuring method
Step motor pulse control
Sample/Reagent distribution method
7-port distribution control method (Fixed quantity injection with multi-channel valve system)
Windows 7 (CPU process) or more
TCP/IP, DC 4~20mA, RS-232C
Normal operation, on calibration, error
Color LED 10.4″ (Touch screen)
AC 220V, 50/60Hz
Average 70W
3% or less
HDD 100G or more
USB terminal
Steel, 1.5T (Except paint) / 645(W) — 439(D) — 1600(H) mm
RH 95% or less
Application
Application Field
Power plant
Boiler influent monitoring
Turbine influent monitoring
Condensate water monitoring
Demineralized water monitoring
Semiconductor
Purified water manufacturing process