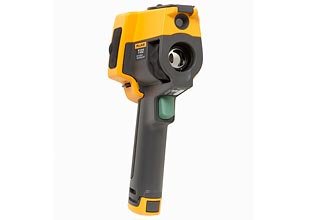 Lưu ý: Tham khảo ý kiến của nhân viên INO sẽ giúp bạn tiết kiệm được thời gian và chi phí khi cần mua sắm. ​​Với sự tư vấn của chúng tôi, bạn sẽ không gặp khó khăn khi tìm hiểu về đặc tính của sản phẩm cần mua.
Delivers the clear, crisp images needed to find problems fast with its 320×240 sensor.
Identify even the smallest temperature differences that could indicate problems with industry-leading thermal sensitivity (NETD).
Automatic alignment (parallax correction) of visual and infrared images with Fluke patented IR-Fusion®
Optional telephoto and wide angle lenses available for added versatility and special applications. (easily installable in the field)
Field replaceable batteries give you maximum flexibility no matter where your work takes you.
Intuitive, three-button menu is easy to use—simply navigate with the push of a thumb.
No need to carry pen and paper—record findings by speaking into the imager. Voice annotations can be recorded with every image you take. Voice comments are saved along with individual images for future reference.
One-handed focus capability, emissivity correction, reflected background temperature compensation, and transmission correction increase the accuracy of measurements in most situations.
Adjustable hand strap for left-or right-handed use.
Everything needed to get started is included.
Optimized for field use in challenging work environments.
Engineered and tested to withstand a 2 m drop for the ultimate peace of mind – When was the last time you dropped a tool or piece of equipment?
Withstands dust and water—tested to an IP54 rating.
Temperature
Temperature measurement range (not calibrated below -10 °C)
-20 °C to +600 °C (-4 °F to +1112 °F)
Temperature measurement accuracy
± 2 °C or 2 % (at 25 °C nominal, whichever is greater)
On-screen emissivity correction
Yes
On-screen reflected background temperature compensation
Yes
On-screen transmission correction
Yes
Imaging performance
Image capture frequency
9 Hz refresh rate or 60 Hz refresh rate depending upon model variation
Detector type
320 X 240 Focal Plane Array, uncooled microbolometer
Thermal sensitivity (NETD)
≤ 0.045 degrees C and 45 mK
Total Pixels
76,800
Infrared spectral band
7.5 μm to 14 μm (long wave)
Visual (visible light) camera
Industrial performance 2.0 megapixel
Minimum focus distance
46 cm (approx. 18 in)
Standard infrared lens type

Field of view : 23 ° x 17 °
Spatial resolution (IFOV) : 1.25 mRad
Minimum focus distance : 15 cm (approx. 6 in)

Optional telephoto infrared lens type

Field of view : 11.5 ° x 8.7 °
Spatial resolution (IFOV) : 0.63 mRad
Minimum focus distance : 45 cm (approx. 18 in)

Optional wide-angle infrared lens type

Field of view : 46 ° x 34
Spatial resolution (IFOV) : 2.50 mRad
Minimum focus distance : 7.5 cm (approx. 3 in)

Focus mechanism
Manual, one-handed Smart Focus capability
Image presentation
Palettes

Standard: Ironbow, Blue-Red, High Contrast, Amber, Amber Inverted, Hot Metal, Grayscale, Grayscale Inverted
Ultra Contrast™: Ironbow Ultra, Blue-Red Ultra, High Contrast Ultra, Amber Ultra, Amber Inverted Ultra, Hot Metal Ultra, Grayscale Ultra, Grayscale Inverted Ultra

Level and span
Smooth auto-scaling and manual scaling of level and span
Fast auto toggle between manual and auto modes
Yes
Fast auto-rescale in manual mode
Yes
Minimum span (in manual mode)
2.5 °C (4.5 °F)
Minimum span (in auto mode)
5 °C (9 °F)
IR-Fusion® information
Automatically aligned (parallax corrected) visual and IR blending
Yes
Picture-In-Picture (PIP)
Three levels of on-screen IR blending displayed in center of LCD
Full screen infrared
Three levels of on-screen IR blending displayed in center of LCD
Color alarms (temperature alarms)
High-temperature alarm (user-selectable)
Image capture and data storage
Image capture, review, save mechanism
The Ti32 allows user to adjust palette, blending, level, span, IR-Fusion® mode, emissivity, and reflected background temperature compensation, and transmission correction on a captured image before it is stored.
Voice annotation
60 seconds maximum recording time per image; reviewable playback on imager
Storage medium
One-handed image capture, review, and save capability
File formats
SD Memory Card (2 GB memory card will store at least 1200 fully radiometric (.is2) IR and linked visual images each with 60 seconds voice annotations, or 3000 basic bitmap (.bmp) images, or 3000 jpeg (.jpeg) images; transferrable to PC via included multi-format USB card reader
Export file formats w/SmartView® software

Non-radiometric (.bmp) or (.jpeg) or fully-radiometric (.is2)
No analysis software required for non-radiometric (.bmp and .jpeg) files
General specifications
Operating temperature
-10 °C to +50 °C (14 °F to 122 °F)
Storage temperature
-20 °C to +50 °C (-4 °F to 122 °F) without batteries
Relative humidity
10 % to 95 % non-condensing
Display
9.1 cm (3.7 in) diagonal landscape color VGA (640 x 480) LCD with backlight and clear protective cover
Controls and adjustments

User selectable temperature scale (°C/°F)
Language selection
Time/Date set
Emissivity selection
Reflected background temperature compensation
Transmission correction
User selectable hot spot and cold spot, and center point on the image (other custom markers and shapes in SmartView® software)
High temperature alarm
User selectable backlight: "Full Bright or "Auto
Information display preference

Software
SmartView® full analysis and reporting software included
Batteries
Two lithium ion rechargeable smart battery packs with five-segment LED display to show charge level
Battery life
Four+ hours continuous use per battery pack (assumes 50 % brightness of LCD)
Battery charge time
2.5 hours to full charge
AC battery charging
Two-bay ac battery charger (110 V ac to 220 V ac, 50/60 Hz) (included), or in-imager charging. AC mains adapters included. Optional 12 V automotive charging adapter.
AC operation
AC operation with included power supply (110 V ac to 220 V ac, 50/60 Hz). AC mains adapters included.

Resource & Download

Lưu ý: Nếu một thiết bị nào đó không được liệt kê ở đây, điều đó không có nghĩa rằng chúng tôi không hỗ trợ được bạn về thiết bị đó.

Hãy liên hệ với chúng tôi

 để biết danh sách đầy đủ về thiết bị mà chúng tôi có thể hỗ trợ và cung cấp.

INO: Bán, Báo giá, tư vấn mua sắm và cung cấp, tư vấn sản phẩm thay thế; tương đương, hướng dẫn sử dụng, giá…VNĐ, …USD info@ino.com.vn | Tel: (+84) 028 73000184 | Fluke – Thermal Imagers (Model: Ti 32).