Lưu ý: Tham khảo ý kiến của nhân viên INO sẽ giúp bạn tiết kiệm được thời gian và chi phí khi cần mua sắm. ​​Với sự tư vấn của chúng tôi, bạn sẽ không gặp khó khăn khi tìm hiểu về đặc tính của sản phẩm cần mua.
The TENSILON RTF is our newest universal testing machine offering innovative measuring possibilities, based on A&D's newly-developed and extensive technological knowledge. The RTF Series is a world-class Class 0.5 testing machine. Having improved the overall design and structure of the machine, we achieved a very strong load frame stiffness enabling super-high accuracy in measurement. We also took the informed opinions of machine operators into consideration in order to improve the performance and functions of our model. The TENSILON RTF Series heralds the beginning of a new era in measurement.
Features

A&D's world-class Class 0.5 testing machine


Load frame stiffness has been greatly improved by 30%


Rated output accuracy of up to 1/500 is guaranteed


High-speed sampling:1 msec


A maximum of 13 input signal channels


Color touch panel (optional)


Various operational environments
Color Touch panel
The color touch panel offers superb visibility and easier operation.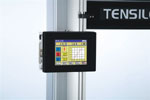 Either the color touch panel OP-01 or MSAT data procesing software (on a personal computer) can be selected for user interface.
Touch Panel
MSAT
Display
Commander
Recorder
RTF with Touch panel
OP-01
Optional
Optional
Optional
Optional

Test Screen



The main window for displaying a graph and starting a test

Mode Selection



Select testing mode

Condition Measurement



Setting test speed, such as constant crosshead
speed and constant load increase speed

Operation Window



Ultra-fine, fine and coarse adjustments possible

Load Calibration



Simple load calibration with the touch of a button

MSAT (Multi Signal Analysis Testing)
Data processing software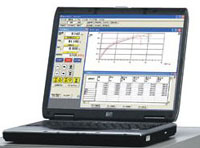 The MSAT series is equipped with functions for not only testing machine operation but also data analysis, calculation and data storage for each testing mode. The operator can select Standard test (tensile, compression and bending) mode, Peeling test mode, Cycle test mode, Creep test mode, Stress relaxation test mode etc. depending on the purpose of the test.

PC operation environment OS: Windows XP Professional. Program size: 80Mb or smaller. Memory requirement: 512Mb or over. Authority requirement: Administrator authority. USB: One USB port. Display resolution: 800×600 dots or higher color display .
Touch Panel
MSAT
Display
Commander
Recorder
MSAT
Optional
Standard
(Mandatory)
Optional
Optional
Optional

Standard layout setting during a measurement

Status Display Window,
Graph Display Window and Table Display Window

Operation Conditions Window, Sample Information Window,
Detailed Conditions Window, Dimension Table Window

Analysis Condition Window, Table Display Window,
Arbitrary Formula Window

Reanalysis Window

Display & Commander
RTF series with user interface for advanced operation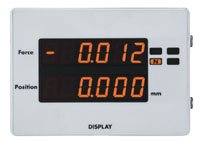 Display
Detachable digital display for load and displacement indication. This display can be attached with magnets to any part of the machine and it does not obstruct the user when fixing a sample to the jig or testing a sample as its position can be freely adjusted.
| | |
| --- | --- |
| Fixing method | Magnet attachment method |
| Display data | Load/displacement |
| Load | 6-digit indication |
| Displacement | 6-digit indication |

Load
6-digit indication
The indication unit will be automatically selected from kN, N, mN or N.

Displacement
1/1000 display at minimum
The detachable display offers a more organized and efficient workspace.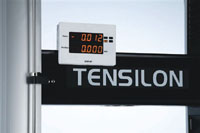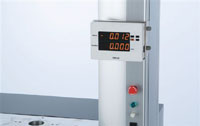 Commander
Handy compact commander for testing machine control. This commander can be attached to the top, bottom, left or right of the testing machine digital display for load and displacement indication.
| | |
| --- | --- |
| | The commander's manual operation buttons are ergonomically designed with bright colors and varied sizes for superior ease-of-use. The jog dial on the right hand side of the commander offers extra flexible control and the operator can move the crosshead up and down by manually rotating this dial. |

Applications
A&D's wide range of applied products for even more advanced applications :
Applied test jigs for strength measurement
| | | |
| --- | --- | --- |
| Screw action jaws | Air jaws | Compression cage |
| Wedge action jaws | Compression test jig | Compression type bending test jig |

Applied testing devices for elongation measurement
SG series strain gauge device for measuring
distance between gauge marks

Non-contact extensometer between gauge marks


Applications
| | | |
| --- | --- | --- |
| LOT SET Application | Excel PU | Quality control application |

Applied testing devices for temperature / environment test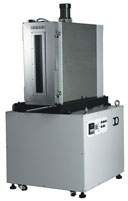 · Constant temperature / constant humidity testing devices
· High temperature testing devices
· Ultra-low temperature testing devices
· High humidity in gas atmosphere testing devices
· High humidity in vacuum testing devices
· Dipping testing devices

Data Recorder
Analog recorder (AR-6600-7)


This recorder is equipped with a control panel providing easy setup with one-touch zero-span adjustment and auto ranging.

Load frame table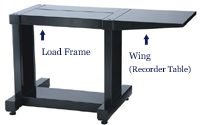 Dimensions (mm)
RTF-20 for RTF-1310, RTF-1250, RTF-1225 and RTF-1210
680(W)x555(D)x630(H)
RTF-22 for RTF-1350 and RTF-1325
897(W)x650(D)x460(H)

Recorder table (Wing)
Dimensions (mm)
RTF-21 for RTF-1350 and RTF-1325
420mm(W)x430mm(D)
Can be mounted on either the right or left side.
RTF-23 for RTF-1310, RTF-1250, RTF-1225 and RTF-1210
420mm(W)x430mm(D)
Can be mounted on either the right or left side.
Wing (sold separately)

Specification
RTF-2430
RTF-2425
RTF-2410
RTF-2350
RTF-2325
Loading System
Closed-loop micro-computer controlled digital servo mechanism
Maximum Capacity
300kN
250kN
100kN
50kN
25kN
Test Width (mm)
590mm
Crosshead Stroke (mm)
1370mm
1160mm
1180mm
1210mm
Effective Stroke (mm)
625mm
720mm
798mm
828mm
Crosshead Speed (mm/min)
0.0005 – 500mm/min
0.0005 – 1000mm/min
Speed Accuracy
±0.1%
Crosshead Return Speed (mm/min)
500mm/min or 250mm/min
1000mm/min or 500mm/min
Load Measurement Accuracy
±1% of indicated value
±0.5% of indicated value
Load Range
Full Auto Range ( max. 128 times)
Load Calibration
One touch auto-calibration
Safety Function for overloading
Provided
Sample Break Detection
Provided

Resource & Download

Lưu ý: Nếu một thiết bị nào đó không được liệt kê ở đây, điều đó không có nghĩa rằng chúng tôi không hỗ trợ được bạn về thiết bị đó.

Hãy liên hệ với chúng tôi

 để biết danh sách đầy đủ về thiết bị mà chúng tôi có thể hỗ trợ và cung cấp.

INO: Bán, Báo giá, tư vấn mua sắm và cung cấp, tư vấn sản phẩm thay thế; tương đương, hướng dẫn sử dụng, giá…VNĐ, …USD info@ino.com.vn | Tel: (+84) 028 73000184 | A&D-TENSILON (Model:RTF Series).