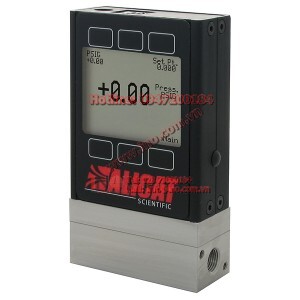 Lưu ý: Tham khảo ý kiến của nhân viên INO sẽ giúp bạn tiết kiệm được thời gian và chi phí khi cần mua sắm. ​​Với sự tư vấn của chúng tôi, bạn sẽ không gặp khó khăn khi tìm hiểu về đặc tính của sản phẩm cần mua.
Description

Alicat P series precision pressure gauges are the ideal solution for applications in which standard dial type gauges cannot deliver precise accuracy or offer some kind of signal output. By using the same technology that makes the Alicat PC series pressure controller so accurate, the PC series pressure controller offers the ideal solution for applications that require unparalleled accuracy and a method of outputting pressure either analog or digitally.
Benefits

Precise
Digital pressure/vacuum display offer more resolution and are easier to read than dial type gauges.
Versatile
A variety of output options from 0-5V, 0-10V and 4-20mA as well as seamless integration with other compatible flow products on one RS-232 line.
Fast
Quick response speeds show users the most minimal pressure/vacuum fluctuations.
Cheap to operate
Low power consumption and minimal maintenance.
Rugged
Standard 302SS flow body with aluminum case housing looks good and provides long service life.
Accurate and Repeatable
Accurate to 0.5% of full scale and repeatable to 0.5% of full scale.
Features

Standard features
Fully functional digital display with pushbutton control

No warm up time

Viton seals

8 pin mini din electronic connector

Standard barrel type power connector

RS-232 Multi-drop digital output

Choice of 0-5Vdc, 0-10Vdc, or 1-5Vdc analog output

200:1 turndown ratio allow gauge to measure 1/200th of its full scale potential

User can select any of nine units of measure at time of order

Setpoint control and loop tuning via display

Able to operate in applications with flow rates as high as 2500SLPM.

Compatible with a variety of gases and liquids

NPT process connections

Lifetime warranty
Optional features and equipment
High accuracy calibration

Locking 6 pin, DB9 or DB15 connector

DeviceNet™ digital output

ProfiBUS digital output

RS-485 digital output

4-20mA analog output

Color backlit TFT display

Remote panel mount display

Remote panel mount color backlit TFT display

Acrylic Mil-spec dielectric conformal coating

EPDM seals

NeSSI flow body

Oxygen cleaned

Remote electronic package for high temp environments

SAE process connections

VCR, VCO style welded fittings

5VDC, 12VDC, 24VDC, or open drain flow alarms (high or low)

Additional calibration points

CSA or ATEX certification
Resource & Download
Lưu ý: Nếu một thiết bị nào đó không được liệt kê ở đây, điều đó không có nghĩa rằng chúng tôi không hỗ trợ được bạn về thiết bị đó.
Hãy liên hệ với chúng tôi
 để biết danh sách đầy đủ về thiết bị mà chúng tôi có thể hỗ trợ và cung cấp.
INO: Bán, Báo giá, tư vấn mua sắm và cung cấp, tư vấn sản phẩm thay thế; tương đương, hướng dẫn sử dụng, giá…VNĐ, …USD info@ino.com.vn | Tel: (+84) 028 73000184 | Alicat-Digital Pressure/Vacuum Transducers and Gauges (Model P Series).