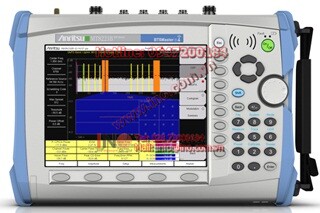 Lưu ý: Tham khảo ý kiến của nhân viên INO sẽ giúp bạn tiết kiệm được thời gian và chi phí khi cần mua sắm. ​​Với sự tư vấn của chúng tôi, bạn sẽ không gặp khó khăn khi tìm hiểu về đặc tính của sản phẩm cần mua.
Features
2-port Cable and Antenna Analyzer 400 MHz to 4 GHz
Bias Tee
GPS Receiver
Spectrum Analyzer 150 kHz to 7.1 GHz
Power Meter 10 MHz to 7.1 GHz
High Accuracy Power Meter (up to 26 GHz with external sensor)
Interference Analyzer 100 kHz to 7.1 GHz
Channel Scanner 100 kHz to 7.1 GHz
Vector Signal Generator 400 MHz to 6 GHz
Signal Quality Analyzers
GSM/EDGE, W-CDMA/HSPA+, LTE, TD-SCDMA/HSDPA
CDMA, EV-DO, Fixed WiMAX, Mobile WiMAX
Backhaul Quality Analyzers
T1, T3
E1
The BTS Master MT8221B is Anritsu's high performance base station analyzer. From the ground up it has been designed to support 4G standards and installed 2G/3G networks. The MT8221B's platform provides a 20 MHz demodulation capability to support LTE bandwidths from 1.4 to 20 MHz. It also features a 30 MHz Zero-Span IF Output for external demodulation of virtually any other wideband signal. In addition, a Vector Signal Generator option is available for comprehensive receiver testing capability with the flexibility to generate two modulated signals plus noise.
The BTS Master MT8221B Base Station Analyzer is ideal for senior cell site technicians and RF engineers to accurately and quickly test and verify the installation and the commissioning of base stations and cell sites for optimal wireless network performance and for the on-going maintenance and troubleshooting to keep your wireless network infrastructure fine-tuned.
When it comes to meeting your key performance indicators (KPIs) such as dropped calls, call denial, or call blocking rates due to a malfunction at the cell site or interference, the BTS Master MT8221B is the all-in-one instrument that you can count on for quick problem resolution.
The Signal Analyzers for 2G/3G and approaching 4G networks can test the RF Quality and the Modulation Quality of a wireless signal to verify the performance of virtually every subsystem in a base station's transmitter. With the Downlink Over-the-Air (OTA) Quality tests you can verify the performance of the downlink with the OTA scanners.
The BTS Master MT8221B is small, lightweight, and battery operated making it easy for the technician to use it anywhere at a cell site. With less than 5 minute warm-up time you get more useful battery life and you can start making measurements faster. Through Anritsu's field-proven design know-how and 50 hours of production burn-in and temperature cycling on every unit you can count on your MT8221B to give you years of reliable performance in the rugged outdoor environment.
Whether line sweeping is required or analysis of its associated components and antennas, the need to quickly troubleshoot down to a field replaceable unit (FRU) in the base station, to verify the performance of the cell site's backhaul lines, or to hunt down your toughest interference problems; the BTS Master MT8221B is the ideal all-in-one instrument.
Cable and Antenna Analyzer Measurements
VSWR, Return Loss, Cable Loss, Distance-to-Fault (DTF) Return Loss, DTF VSWR, 1/2-port Phase, 2-port Gain, Smith Chart
Spectrum Analyzer Measurements
Field Strength, Occupied Bandwidth, Channel Power, ACPR, AM/FM/SSB Demodulation, C/I, Gated Sweep
Interference Analyzer Measurements
Spectrogram, Signal Strength Meter, Received Signal Strength Indicator (RSSI)
Channel Scanner Capability
Scan 20 channels at once by frequency or channel number, up to 1200 channels, auto-save with GPS tagging
Vector Signal Generator Capability
Generate up to 2 modulated tones, up to 10 MHz bandwidth plus noise
Check BTS receiver's sensitivity, adjacent channel selectivity, blocking, intermodulation rejection
Signal Quality Analyzers Measurements
RF Quality Measurements, Modulation Quality Measurements, Over-the-Air Quality Measurements
Backhaul Quality Analyzer Measurements
Electrical Testing – Error Detection, Error Analysis, Rx Signal, VF
Option

Description
MT8221B-010
High Voltage Variable Bias Tee
MT8221B-0031
GPS Built-in Receiver (Requires Antenna P/N 2000-1528-R, sold separately)
MT8221B-0019
High Accuracy Power Meter (Requires USB Power Sensor)
MT8221B-0025
Interference Analyzer
MT8221B-0027
Channel Scanner
MT8221B-0089
Zero-Span IF Output (30 MHz IF Bandwidth)
MT8221B-0090
Gated Sweep
MT8221B-0023
Vector Signal Generator
MT8221B-0040
GSM/GPRS/EDGE RF Measurements
MT8221B-0041
GSM/GPRS/EDGE Demodulation
MT8221B-0044
W-CDMA/HSDPA RF Measurements
MT8221B-0045
W-CDMA Demodulation
MT8221B-0065
W-CDMA/HSDPA Demodulation
MT8221B-0035
W-CDMA/HSDPA Over-the-Air (OTA) Measurements
MT8221B-0060
TD-SCDMA/HSDPA RF Measurements
MT8221B-0061
TD-SCDMA/HSDPA Demodulation
MT8221B-0038
TD-SCDMA/HSDPA Over-the-Air (OTA) Measurements
MT8221B-0541
LTE RF Measurements
MT8221B-0542
LTE Modulation Measurements
MT8221B-0546
LTE Over-the-Air (OTA) Measurements
MT8221B-0543
LTE BW = 15 MHz, 20 MHz (requires option 0541, 0542, 0551 or 0552)
MT8221B-0551
TD-LTE RF Measurements (BW = 10 MHz)
MT8221B-0552
TD-LTE Modulation Measurements (BW = 10 MHz)
MT8221B-0556
TD-LTE Over-the-Air Measurements
MT8221B-0042
cdmaOne / CDMA2000 1X RF Measurements
MT8221B-0043
cdmaOne / CDMA2000 1X Demodulation
MT8221B-0033
cdmaOne / CDMA2000 1X Over-the-Air (OTA) Measurements
MT8221B-0062
CDMA2000 1xEV-DO RF Measurements
MT8221B-0063
CDMA2000 1xEV-DO Demodulation
MT8221B-0034
CDMA2000 1xEV-DO Over-the-Air (OTA) Measurements
MT8221B-046
Fixed WiMAX RF Measurements
MT8221B-047
Fixed WiMAX Demodulation
MT8221B-0066
Mobile WiMAX RF Measurements
MT8221B-0067
Mobile WiMAX Demodulation
MT8221B-0037
Mobile WiMAX Over-the-Air (OTA) Measurements
MT8221B-0051
T1 Analyzer
MT8221B-0052
E1 Analyzer
MT8221B-0053
T3/T1 Analyzer
MT8221B-0098
Standard Calibration
MT8221B-0099
Premium Calibration
* Options 51 – T1 Analyzer, 52 – E1 Analyzer and 53 – T3/T1 Analyzer are mutually exclusive.
Lưu ý: Nếu một thiết bị nào đó không được liệt kê ở đây, điều đó không có nghĩa rằng chúng tôi không hỗ trợ được bạn về thiết bị đó.
Hãy liên hệ với chúng tôi
 để biết danh sách đầy đủ về thiết bị mà chúng tôi có thể hỗ trợ và cung cấp.
INO: Bán, Báo giá, tư vấn mua sắm và cung cấp, tư vấn sản phẩm thay thế; tương đương, hướng dẫn sử dụng, giá…VNĐ, …USD info@ino.com.vn | Tel: (+84) 028 73000184 | Anritsu-BTS Master (Model:MT8221B).