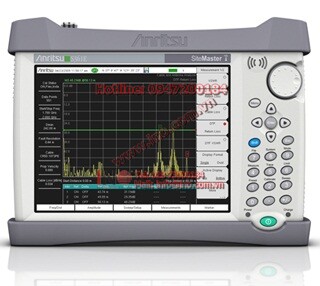 Lưu ý: Tham khảo ý kiến của nhân viên INO sẽ giúp bạn tiết kiệm được thời gian và chi phí khi cần mua sắm. ​​Với sự tư vấn của chúng tôi, bạn sẽ không gặp khó khăn khi tìm hiểu về đặc tính của sản phẩm cần mua.
Features
Return Loss, VSWR, Cable Loss, Distance-To-Fault
Phase, 2-port Transmission Measurements
High Accuracy Power Meter, GPS
Field-proven design: Four-hour battery life, rugged, compact, lightweight, daylight viewable display
USB connectivity, built-in touch screen keyboard
Intuitive menu-driven touch screen user interface

Description
To keep up in today's rapidly evolving wireless communications market, you need tools that enable you to efficiently maintain legacy networks in addition to the new 3G and 4G networks now being installed. And with rate of market expansion, you're being required to service more base stations than ever before. This means completing sweeps quickly, performing calibrations instantly, and implementing fast trace naming while in the field. The S361E Site Master does all this while delivering the ease of use, rich functionality, and best-in-class price/performance you've come to expect from Anritsu. Designed to handle the most punishing field conditions, the S361E Site Master Cable and Antenna Analyzer dramatically enhances your productivity and transforms the traditional fix-after-failure maintenance model to one that identifies and fixes problems before major failures occur.
In addition, easyTest Tools™ allows experienced users to Create, Deliver, and Display on-screen work instructions for Cable and Antenna testers. These work instructions make life easier for less-experienced cable and antenna sweepers. Direct benefits include more accurate testing, repeatable results, and less rework. For more details see the easyTest Tools page.
Applications
Cable & Antenna Installation and Maintenance for wireless service providers, contractors, military, aerospace and defense, and public safety applications
Insertion Loss
2-port measurements of Tower Mounted Amplifiers, duplexers, diplexers, filters
Phase Matching Cables
Antenna Tuning
Options
Option
Description

S361E-0010
Variable Voltage Bias Tee
S361E-0021
2-port Transmission Measurement
S361E-0031
GPS Built-in Receiver (Requires Antenna P/N 2000-1528-R, sold separately)
S361E-0019
High Accuracy Power Meter (Requires USB Power Sensor)
S361E-0411
Ethernet Connectivity

S361E-0098
Standard Calibration to Z540
S361E-0099
Premium Calibration to Z540 plus test data
Lưu ý: Nếu một thiết bị nào đó không được liệt kê ở đây, điều đó không có nghĩa rằng chúng tôi không hỗ trợ được bạn về thiết bị đó.
Hãy liên hệ với chúng tôi
 để biết danh sách đầy đủ về thiết bị mà chúng tôi có thể hỗ trợ và cung cấp.
INO: Bán, Báo giá, tư vấn mua sắm và cung cấp, tư vấn sản phẩm thay thế; tương đương, hướng dẫn sử dụng, giá…VNĐ, …USD info@ino.com.vn | Tel: (+84) 028 73000184 | Anritsu- Site Master Handheld Cable & Antenna Analyzer (Model:S361E).