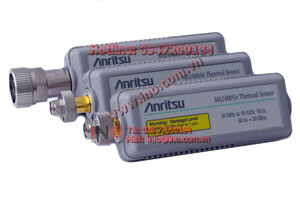 Lưu ý: Tham khảo ý kiến của nhân viên INO sẽ giúp bạn tiết kiệm được thời gian và chi phí khi cần mua sắm. ​​Với sự tư vấn của chúng tôi, bạn sẽ không gặp khó khăn khi tìm hiểu về đặc tính của sản phẩm cần mua.
Features
True-RMS detection enables accurate average power measurements of any signal type
50 dB dynamic range
Wide frequency coverage from 10 MHz to 50 GHz (sensor dependent)
Calibration factors stored in EEPROM
Description
The Anritsu MA2400xA series thermal sensors are designed for use with the ML2430, ML2480 and ML2490 series power meters. These sensors provide excellent power measurement accuracy over 50 dB of dynamic range. Thermal sensors use Seebeck elements where the combined effect of a thermal gradient and charge migration between dissimilar metals gives a true reading of the average power of any incident waveform. Anritsu thermal sensors have class leading SWR and built in EEPROM with calibration factor and linearity correction data. This results in assured accuracy when measuring any signal.
Specifications
Model

MA24002A

MA24004A

MA24005A

Frequency Range

10 MHz – 18 GHz

10 MHz – 40 GHz

10 MHz – 50 GHz

Dynamic Range (dBm)

-30 to +20

SWR

<1.90; 10 to 50 MHz
<1.17; 50 to 150 MHz
<1.10; 0.15 to 2 GHz
<1.15; 2 to 12.4 GHz
<1.20; 12.4 to 18 GHz
<1.25; 18 to 32 GHz
<1.30; 32 to 40 GHz
<1.40; 40 to 50 GHz

Rise Time1 (ms)

<15

Sensor Linearity2

1.8%, <18 GHz
2.0%, <40 GHz
2.5%, <50 GHz

RF Connector3
N(m)
K(m)
V(m)
1. 0.0 dBm, room temperature with standard 1.5m sensor cable
2. Sensor linearity specifications are ± value. MA24005D linearity applicable from –30 to +15 dBm. Add 1 % above +15 dBm
3. Each MA2400A/D Series sensor incorporates precision RF connectors with hexagon coupling nut for attachment by industry standard torque wrench.
Lưu ý: Nếu một thiết bị nào đó không được liệt kê ở đây, điều đó không có nghĩa rằng chúng tôi không hỗ trợ được bạn về thiết bị đó.
Hãy liên hệ với chúng tôi
 để biết danh sách đầy đủ về thiết bị mà chúng tôi có thể hỗ trợ và cung cấp.
INO: Bán, Báo giá, tư vấn mua sắm và cung cấp, tư vấn sản phẩm thay thế; tương đương, hướng dẫn sử dụng, giá…VNĐ, …USD info@ino.com.vn | Tel: (+84) 028 73000184 | Anritsu- Thermal Sensors (Model:MA2400xA).