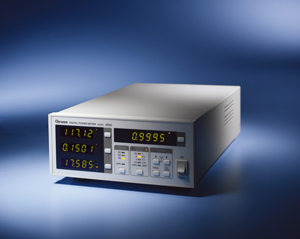 Lưu ý: Tham khảo ý kiến của nhân viên INO sẽ giúp bạn tiết kiệm được thời gian và chi phí khi cần mua sắm. ​​Với sự tư vấn của chúng tôi, bạn sẽ không gặp khó khăn khi tìm hiểu về đặc tính của sản phẩm cần mua.
Key Features:
Voltage Range : 150/300/500 Vrms
Current Range :
Model 66201 – 0.01/0.1/0.4/2 Arms
Model 66202 – 0.01/0.1/0.4/2 Arms ; 0.2/2/8/20 Arms
Frequency Range : DC, 15Hz~10kHz
Embedded high speed DSP, 16 bits Analog/Digital converters
10 mA minimum current range & 0.1mW power resolution
Meets ENERGY STAR / EN 50564:2011/IEC 62301:2011 / ErP measurement requirements
Accumulated energy methods for unstable power measurement
User-define criteria provides automatic PASS/FAIL indications
Half rack width and 2U height, suitable for system integration
Dual current shunt design provides high accuracy over a wide current range (Model 66202)
THD and user-specify order distortion measurement (Model 66202)
Inrush current and energy measurement (Model 66202)
Interface options : USB or USB+GPIB
Voltage/ Current harmonics measurement up to 50 orders
Chroma 66202 Power Meter meets EN 50564:2011/IEC 62301:2011 requirement for power measurement
EN 50564:2011 (derived from IEC 62301:2011) is the latest standard for defining requirements for the measurement of low power consumption for electrical and electronics household and office equipment. Chroma 66202 Power Meter is capable of meeting EN 50564:2011 requirements for power measurement instrument in accordance to section B.2.1 regarding instruments for power measurements. In addition to that, Chroma 66202 Power Meter is also capable of meeting the power measurement uncertainty requirements stated in section 4.4.1 as the power meter has verified by KEMA in accordance to IEC 62301:2005, and with the newly confirmed power measurement accuracy specification 0.1% of reading + 0.05% of range (for 300V x 100mA range), the power uncertainty contributed by 66202 Power Meter is less than the absolute power uncertainty 0.02W. The new standard has included interpretation, calculation and implementation methods for analyzing the measured power and the analyzing process is complex and time consuming. In order to resolve this, the 66202 Power Meter Softpanel has included the required data analysis feature and provide users with easy to use interface to carry out the standby power measurement according to the international standard. The Softpanel measures and provides test report feature for recording all the key parameters such as Total Harmonics Distortion (THD), waveform crest factor, voltage, current, frequency, active power, apparent power, power factor, etc.
* Model 66200 ENERGY STAR-Power Test Soft Panel Download
Chroma's 66200 Series Digital Power Meter is designed for single-phase measurements of AC power signals and related parameters common to most electronic products. Instead of traditional analog measurement circuits, the 66200 uses state-of-the-art DSP digitizing technology. The internal 16 bits analog/digital converters with sampling rates of up to 240kHz provide both high speed and high accuracy measurements which is unprecedented within the industry for this class of power meters current on the market.
The instruments include a four part display with 7-segment LED front panel readouts. Users can easily select desired parameters and readouts at a touch of a button. Instruments also include optional remote control using USB or GPIB interfaces via rear panel connections. The 66200 is packaged in a 2U high, half rack enclosure suitable for benchtop or system integration.
The Model 66201 includes simple measurement functions designed for low power applications (maximum current 2A). Examples of these devices are AC adapters, battery chargers, LCD monitors, and similar devices. Included measurement data is as following :
1. Voltage : Vrms, Vpeak+, Vpeak-
2. Current : Irms, Ipeak+, Ipeak-
3. Power : Watts, Power Factor,
Apparent Power VA,
Reactive Power VAR
4. Current Crest Factor & Frequency
Resource & Download
Lưu ý: Nếu một thiết bị nào đó không được liệt kê ở đây, điều đó không có nghĩa rằng chúng tôi không hỗ trợ được bạn về thiết bị đó.
Hãy liên hệ với chúng tôi
 để biết danh sách đầy đủ về thiết bị mà chúng tôi có thể hỗ trợ và cung cấp.
INO: Bán, Báo giá, tư vấn mua sắm và cung cấp, tư vấn sản phẩm thay thế; tương đương, hướng dẫn sử dụng, giá…VNĐ, …USD info@ino.com.vn | Tel: (+84) 028 73000184 | Chroma ATE-Digital Power Meter (Model: 66200 series).