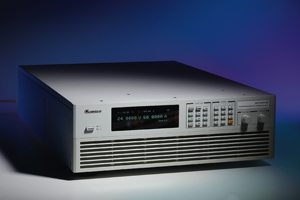 Lưu ý: Tham khảo ý kiến của nhân viên INO sẽ giúp bạn tiết kiệm được thời gian và chi phí khi cần mua sắm. ​​Với sự tư vấn của chúng tôi, bạn sẽ không gặp khó khăn khi tìm hiểu về đặc tính của sản phẩm cần mua.
Key Features:
Power range: 5KW / 10KW / 15KW
Voltage range: 0 ~ 1000V
Current range: 0 ~ 375A
High power density (15KW in 3U)
Easy master / slave parallel & series operation up to 150KW
Precision V&I Measurements
High-speed programming
Voltage & Current slew rate control
Digital encoder knobs, keypad and function keys
Current sharing operation
Voltage ramp function (time range: 10 ms ~ 99 hours)
Auto sequencing programming:10 programs / 100 sequences
OVP, current limit, thermal protection
Standard analog programming interface
Standard USB / RS232 / RS485 interface
Optional GPIB / Ethernet interface
Remote output ON / OFF (I / P)
Remote sense line drop compensation
LabView and Labwindows
Solar array simulation function
Shade I-V curve simulation
I-V curve programming: 10 program / 100 I-V files
CE certified
Chroma's new 62000H Series of programmable DC power supplies offer many unique advantages for telecom, automated test system & integration, industrial, battery charge & simulation for hybrid cars and solar panel simulation. These advantages include high power density of 15KW in 3U, precision readback of output current and voltage, output trigger signals as well as the ability to create complex DC transient waveforms to test device behavior for spikes, drops, and other voltage deviations.
The 62000H Series includes 14 different models ranging from 5KW to 15KW, with current range up to 375A and voltage range up to 1000V. The 62000H can easily parallel up to ten units capable of 150KW with current sharing for bulk power applications, for example, battery bank simulation of 450V/150A/67.5KW for electric vehicle and military use.
There are 100 user programmable input status on the front panel for automated test application and life cycle ON/OFF test. In addition, the 62000H has a 16 bit digital control with bright vacuum fluorescent display readout. The 62000H series DC power supplies are very easy to operate either from the front panel keypad or from the remote controller via USB / RS232 / RS485 / APG (Standard) and GPIB & Ethernet (optional). Its compact size with 3U only can be stacked on a bench in a standard rack without any difficulty.
Another unique capability of the 62000H supplies is their ability to create complex DC transient waveforms. This capability allows devices to be tested to DC voltage dropouts, spikes and other voltage variations making them an ideal choice for aerospace device testing, inverter testing and other devices which will experience voltage interrupts. Applications include DC/DC converter & inverter voltage drop test, engine start-up simulation, battery automated charging, electronic product life cycle test, etc.
High Power Density 15KW in 3U Programmable DC Power Suply
The 62000H Series supplies offer a high power density envelop of maximum 15KW in 3U, deliver low output noise and ripple, excellent line and load regulation, and fast transient response, with wide range of voltage (30V~1000V), current (375A~25A) combinations, suitable for every part of your manufacturing process from design to production testing.
Master / Slave parallel & series operation up to 150KW

When high power is required, it is common to connect two or more power supplies in parallel or series. The 62000H Series supplies have a smart Master / Slave control mode making series/parallel operation fast and simple. In this mode, the master scales values and downloads data to slave units so programming is simple and current sharing automatic.

Solar Array Simulation Function *

Model 62150H-600S/1000S provides a unique feature to simulate the output characteristics of a solar array. This function is useful for MPPT performance evaluation on solar inverter device. User can easily edit the I-V curve, testing and monitor the PV inverter via softpanel , see Figure A & B.

Figure A : IV Curve Edit Table Mode Figure B : Static MPPT Test
BR>


Programming Sequences Aplications

The 62000H Series supplies' LIST and STEP modes allow for auto sequencing function. The LIST mode allows for 100 user programmable sequences with time settings ranging from 5ms to 15000s and voltage / current slew rate control. The STEP mode allows for setting start, end voltage and run time of 10ms to 99 hours for automated test applications. Applications include DC/DC Converter & Inverter voltage dropout testing, engine start-up simulation, battery automated charging, battery voltage dropout simulation, product life cycle testing and avionics testing.

Battery Voltage Dropout Reset Behavior at Voltage Dropof ISO 16750-2

Engine Starting Profile of ISO 16750-2 Battery Voltage Slow Decrease & Decrease

Telecom Converter Sag Testing Output Voltage Slew Rate Control
Resource & Download
Lưu ý: Nếu một thiết bị nào đó không được liệt kê ở đây, điều đó không có nghĩa rằng chúng tôi không hỗ trợ được bạn về thiết bị đó.
Hãy liên hệ với chúng tôi
 để biết danh sách đầy đủ về thiết bị mà chúng tôi có thể hỗ trợ và cung cấp.
INO: Bán, Báo giá, tư vấn mua sắm và cung cấp, tư vấn sản phẩm thay thế; tương đương, hướng dẫn sử dụng, giá…VNĐ, …USD info@ino.com.vn | Tel: (+84) 028 73000184 | Chroma ATE-Programmable DC Power Supply (Model: 62000H series).