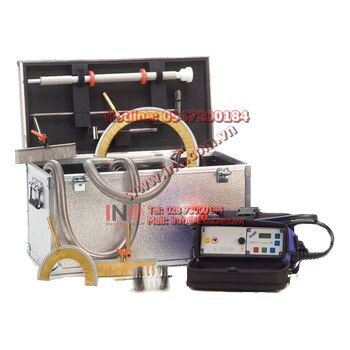 Lưu ý: Tham khảo ý kiến của nhân viên INO sẽ giúp bạn tiết kiệm được thời gian và chi phí khi cần mua sắm. ​​Với sự tư vấn của chúng tôi, bạn sẽ không gặp khó khăn khi tìm hiểu về đặc tính của sản phẩm cần mua.
Standards
DIN 4681, 28055, DIN 28063, DIN 30670, DIN 55670, DIN DIN EN 10329, DIN EN 14430, DVGW Arbeitsblatt G462/I, DVGW Arbeitsblatt W400-2
Application
Device for non-destructive holiday detection of coatings via high voltage impulse technology
Features
This tester has been especially developed for testing sensitive coatings like FBE, enamel, epoxy, Halar etc. An intelligent signal analysis makes it possible to test completely coated parts. The menu-driven sensitivity of the instrument guarantees exact test results. The integrated pore counter makes it easier to meet work specifications and standards.
Technical Data
Test voltage 5-35 kV in 0.1 kV steps
Battery Pb 6 V, exchangeable
Charger 230 V, 50 Hz
Accessories
Accessories are available according to your testing requirements (accessories for grounding, batteries and chargers, testing electrodes, insulted extension bars).
Resource & Download
Lưu ý: Nếu một thiết bị nào đó không được liệt kê ở đây, điều đó không có nghĩa rằng chúng tôi không hỗ trợ được bạn về thiết bị đó.
Hãy liên hệ với chúng tôi
 để biết danh sách đầy đủ về thiết bị mà chúng tôi có thể hỗ trợ và cung cấp.
INO: Bán, Báo giá, tư vấn mua sắm và cung cấp, tư vấn sản phẩm thay thế; tương đương, hướng dẫn sử dụng, giá…VNĐ, …USD info@ino.com.vn | Tel: (+84) 028 73000184 | COESFELD – Holiday detection (Model: 40-164).