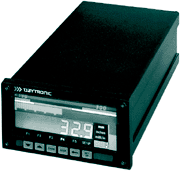 Lưu ý: Tham khảo ý kiến của nhân viên INO sẽ giúp bạn tiết kiệm được thời gian và chi phí khi cần mua sắm. ​​Với sự tư vấn của chúng tôi, bạn sẽ không gặp khó khăn khi tìm hiểu về đặc tính của sản phẩm cần mua.
The Model 4062 is a general-purpose instrument for conditioning, displaying, and monitoring one or two independent signals received from DC-to-DC LVDT's, potentiometer-type sensors, or other external two-wire DC voltage sources.
Each analog input may be either differential (floating) or grounded (single-ended), and may also represent output from some other instrument or instrument system. Excitation of ±12 VDC is supplied for sources that require it. For a wide-range instrument that can be dedicated to a single DC or AC voltage signal, see the Model 4060 DC/AC Voltage Instrument.
As with most standard 4000 Series models, both active low-pass filtering and user-selectable digital smoothing are provided (see Specifications), along with microprocessor-scaled ±10 VDC analog output for strip-chart recording, input to other systems, etc.

Resource & Download
Lưu ý: Nếu một thiết bị nào đó không được liệt kê ở đây, điều đó không có nghĩa rằng chúng tôi không hỗ trợ được bạn về thiết bị đó.
Hãy liên hệ với chúng tôi
 để biết danh sách đầy đủ về thiết bị mà chúng tôi có thể hỗ trợ và cung cấp.
INO: Bán, Báo giá, tư vấn mua sắm và cung cấp, tư vấn sản phẩm thay thế; tương đương, hướng dẫn sử dụng, giá…VNĐ, …USD info@ino.com.vn | Tel: (+84) 028 73000184 | Daytronic Corporation, DC Voltage Instrument (4062).