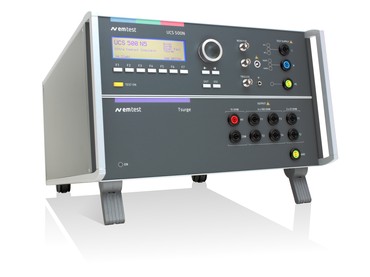 Lưu ý: Tham khảo ý kiến của nhân viên INO sẽ giúp bạn tiết kiệm được thời gian và chi phí khi cần mua sắm. ​​Với sự tư vấn của chúng tôi, bạn sẽ không gặp khó khăn khi tìm hiểu về đặc tính của sản phẩm cần mua.
Highlights
Burst module IEC/EN 61000-4-4 (up to 5.5 kV)
Surge module IEC/EN 61000-4-5/-9 (up to 5 kV)
TSurge module IEC/EN 61000-4-5 up (to 5 kV)
PowerFail module IEC/EN 61000-4-8/-11/-29 (DC)
Built-in single phase coupler 300 V/16 A
Manual operation from front panel
USB and GPIB-Bus for remote control
Magnetic field tests with optional accessoires
Monitor outputs for peak voltage and peak current
Fail inputs
External variac control 0-10 Vdc
Control of external three-phase couplers
Application
UCS 500N5T Series – Compact Tester for EFT/Burst, Surge, Telecom-Surge and Power Fail
The UCS 500N5T Series ultra-compact simulator is the most versatile tester to cover transient and power fail requirements according to international standards (basic and generic standards) and product/product family standards. The UCS 500N5T Series is the most economic solution for tests during development as well as for full-compliant immunity tests and CE Marking for single phase DUT with the ability to be extended for testing three-phase DUTs by means of an automatically controlled external coupling network up to 200 A.
EM TEST supplies a large range of accessories for the various applications such as magnetic field tests.
All in one – All what you need for your tests
The UCS 500N5T Series includes everything necessary to conduct fully compliant tests. The power mains supply for the controls and for the DUT is separate to render it more flexible to use with different DUT supply voltages.
The UCS 500N5T Series can be operated manually from the front panel or by remote via the built-in USB or GPIB interface. Fail inputs allow to control an ongoing test sequence based on the status of the DUT. Monitoring outputs (BNC) are offered for easy signal measurement and verification. Safety features such as interlock and warning lamp control are available.
Resource & Download
Lưu ý: Nếu một thiết bị nào đó không được liệt kê ở đây, điều đó không có nghĩa rằng chúng tôi không hỗ trợ được bạn về thiết bị đó.
Hãy liên hệ với chúng tôi
 để biết danh sách đầy đủ về thiết bị mà chúng tôi có thể hỗ trợ và cung cấp.
INO: Bán, Báo giá, tư vấn mua sắm và cung cấp, tư vấn sản phẩm thay thế; tương đương, hướng dẫn sử dụng, giá…VNĐ, …USD info@ino.com.vn | Tel: (+84) 028 73000184 | EMTEST-Multifunctional testgenerator for conducted transients (EFT/Burst, Surge, Telecom-Surge & Power Fail) up to 5.5kV (Model: UCS 500NST).